Teachers are the pillars of strength and success for their students. Their duty is not limited to delivering lectures, but they also fulfill the roles of motivators, guides, supporters, and navigators of students' careers. They encourage students to excel in their fields of interest. To pay homage to the contribution of teachers, every year 5th September is celebrated as Teachers' Day in India.
Let us revisit the history and understand why we celebrate Teacher's Day on September 5 every year.
Why Do We Celebrate Teachers' Day?

September 5th is the birth anniversary of Dr. Sarvepalli Radhakrishnan, the second president of India. In addition to being a politician and diplomat, he also served as a teacher. Dr. Radhakrishnan was a staunch believer in equality and promoted education at all levels.
However, 5th September was not originally celebrated as Teacher's Day. Once a few friends and students of Dr. Sarvepalli Radhakrishnan approached and requested him to allow them to celebrate his birthday. Dr. Radhakrishnan politely asked them to celebrate the 5th of September as Teachers' Day instead of his birthday. He said, "Instead of celebrating my birthday separately, it would be my proud privilege if 5th September is observed as Teachers' Day."

Since then, India has celebrated the birth anniversary of Dr. Sarvepalli Radhakrishnan as Teachers' Day, and the first celebration was observed in 1967.
Facts About Dr. Sarvepalli Radhakrishnan

Dr. Radhakrishnan was born on 5th September 1888 in the town of Tiruttani. He belonged to a middle-class family, and his father wanted him to take the profession of a priest. However, Dr. Radhakrishnan was deeply involved in studies from a young age. Later he joined Christian College Madras, where he studied philosophy. Owing to his intelligence and outstanding academic performance, Dr. Radhakrishnan received scholarships throughout his school and college years.

The career graph of Dr. Sarvepalli Radhakrishnan is an inspiration for potential teachers. After graduating from Christian College he joined Presidency College, Madras as a faculty. He was extremely popular among his students and they always sought his advice. At the age of around 30 years, Dr. Radhakrishnan was offered a professorship at Calcutta University. Later, he served as the vice-chancellor of Andhra University. In 1939, he joined Banaras Hindu University as the vice-chancellor. Later in 1962, he was appointed the Vice President of the Republic of India.
Teachers' Day Celebration Ideas

Every year Teachers' Day is celebrated with great pomp and enthusiasm. Various functions are organized at different schools and colleges to appreciate the effort of teachers. On this special occasion, students thank educators for guiding and motivating them. Moreover, they dress as their favorite teacher and take their responsibilities for a day. Moreover, many schools and colleges also organize plays and other activities for teachers.
Some of the ideas to celebrate this day of gratitude are mentioned below.
Send greeting cards to show appreciation and gratitude
Giving a simple card is one of the best ways to appreciate the effort of teachers. Students can also prepare artwork to show their gratitude. The key is to get as creative as possible when giving a sweet surprise.
Deliver an inspirational speech
Delivering a sweet yet powerful speech is one of the ways to appreciate the efforts of educators. Students can deliver speeches to thank their teacher. Moreover, lectures or articulations also make teachers aware of their impacts on the life of their students.
Fancy dress competition
Students can organize fancy dress competitions where they will appear in the get-up of their favorite teachers. Also, they can copy the way their teacher talks and behaves in the classroom. This activity is sure to bring humor into Teachers' Day celebrations.
Theme-based classroom party
Students can organize a theme-based classroom party to celebrate Teachers' Day. Pupils can offer refreshments, hold a special program, and offer gifts to make the celebration memorable.
Express gratitude through social media
Students and parents can create a short video expressing their gratitude to teachers. These videos can be posted on social media platforms to make them available to a large audience. Moreover, they can host a virtual meeting or town hall.
Students can show their love and respect by giving gifts to teachers. They can order special foods or curate cute little presents for educators. Gifts like desk organizers, memo pads, and special pens can be offered to teachers.
Ideas to Celebrate Teachers' Day Virtually

The following activities can help students celebrate this day with great enthusiasm in an online mode.
Create a slideshow
Students can create a slideshow to express their love for their teachers. The slides can be prepared without any hassle. Adding photos or videos to the slides can make the presentation more engaging for everyone. Pupils can combine different photos and make a collage out of them.
Digital gift cards
Presenting digital gift cards can make Teachers' Day celebrations more enjoyable. Teachers can redeem these cards at their convenience. Most cards can be redeemed at bookstores, restaurants, and retail stores.
Use letter or activity printable
Students can use their letter-writing skills to express their respect for their teachers. They can be as creative when writing these notes. Moreover, printable activities also help students use their maximum creativity when saying thanks to their teachers.
The job of teaching is not easy, and every educator has their share of struggles when imparting education to their pupils. If their effort and hard work are not recognized, they might not be willing to put their best foot forward. Celebrating Teachers' Day is a way to express respect and love for the effort put in by teachers when shaping the future of their students. The activities mentioned above can easily be organized in an online setup and help students get closer to their teachers.
Happiest Teachers' Day Memories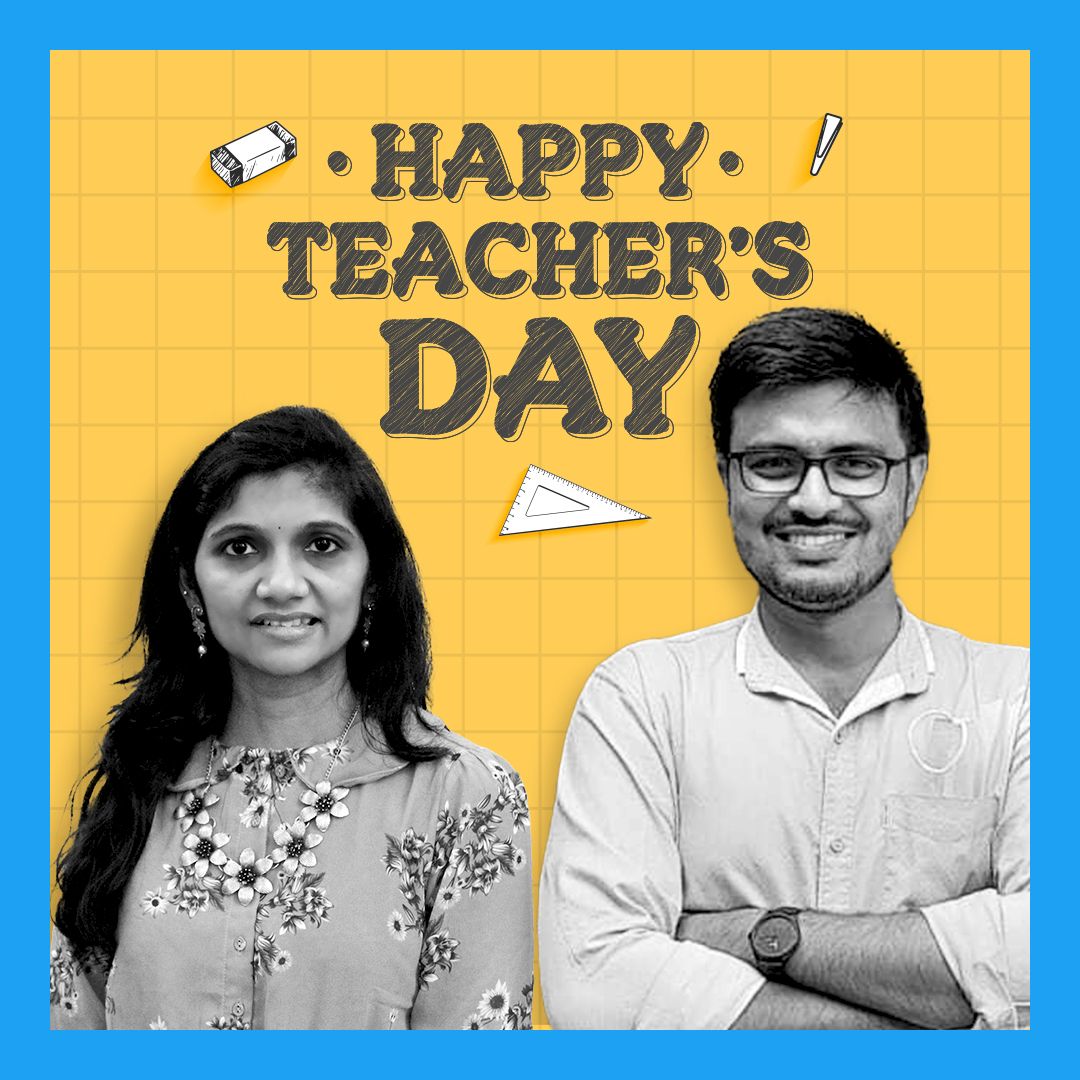 We talked to a few Teachmint teachers and asked them to share their happiest memory of Teachers' Day, and here is what they had to say:

"I cannot forget the day when my students decided to give the sweetest Teachers' Day surprise. Every student from one of the batches visited my house to celebrate this occasion. They brought cake and decorated my place to make me feel special. Such gestures mean a lot and keep me motivated. I always want the best for my students. I believe they should put their best foot forward when learning new things. As a teacher of Creative Arts, I believe every student who joins my classes should be passionate about developing their artistic side and be interested in learning new art forms."-Sunita Avadhani, Creative Arts Educator
To a teacher, the trust and compassion of their students act as their guiding lights. It encourages them to upskill themselves and develop an atmosphere of growth for their students.

"Teachers' Day is one of the loveliest days in every educator's life. Our students make this day memorable and exciting for us. I remember one of the incidents when a student of mine surprised me on this day by visiting my house. He gave me flowers and cake. His effort made me feel special, and I was overwhelmed by his respect and gratitude. As a teacher, I want to see my students excel in whatever field they choose, and honesty and discipline are two qualities that can help them reach their maximum potential. These are the two qualities that I will want to see in my students."-Subhasish, Private Educator
"I feel exceptional as a teacher, and my days become more special when my students shower their love and gratitude. I remember the day when each student in my class gave me a handmade greeting card. That gesture made me feel special. Moreover, such gestures motivate us, teachers, to give our best to students. We want our students to excel in their fields of interest, and one of the ways to master different skills is by gaining a deep understanding of the subject. I believe that students should focus on gaining knowledge; instead of running behind scores."-Rajib Chakraborty, Creative Arts Teacher
Here's a special tribute to teachers this Teachers' Day:
Join them in showing your love for your teachers and leave them a card of appreciation here.
Conclusion
Teachers' Day celebration is about marking the birth anniversary of one of the greatest teachers, Dr. Sarvepalli Radhakrishnan. This day is also about celebrating the effort and hard work put in by teachers when educating their students. Various activities and events are held in different schools and colleges through which students show their respect towards their teachers. Students can participate in online and offline activities to make the most out of this day.
Suggested Read: Teachers Day Quotes
Teachmint provides ed-infra to educational institutions. With our state-of-the-art lms portal, teachers can improve the teaching-learning experience. Our tools like institute erp help schools manage their everyday activities hassle-free.