Technology is fast becoming a prerequisite for delivering a superior educational experience to all those involved in a school ecosystem – teachers, students, parents, as well as those running the institution. You may have heard of learning management systems or LMSs in the sphere of e-learning, but how do they meet a very pressing need in a brick-and-mortar educational institution?
This article will look at what LMSs are, how they can be an effective solution to teaching and learning hurdles, and how an LMS like Teachmint can help make school administration effortless.
What Is a School Learning Management System?
The introduction of state-of-the-art technology solutions has helped improve the experience of teaching and learning in the education sector. School learning management systems are widely in use to change the learning landscape and provide an enriched experience to students. It enables educators to efficiently deliver instruction, collaborate with students, assess student success, and provide additional learning resources for continued student learning. This data may be evaluated to find students' learning trends and gaps that require remedial intervention and class improvement as a whole. This, in turn, enables students to feel a greater sense of motivation.
School owners receive information on class performance and overall school performance via the LMS. Teachers can combine/align standards with curricula, resources, and assessments inside an LMS. They can also track students' development and activities, and other performance outcomes of focused, tailored learning objectives. Teachers can choose specific learning goals for each student and provide them with prompt feedback on their progress.
What Is the Purpose of an LMS?
With the unique challenges that have come up in online schooling, LMS portals have become a crucial element of school administration and student learning. The Integrated School Platform from Teachmint comes with all the resources and tools needed to provide students with a well-rounded educational experience. It helps them perform better at school by increasing their interest level and motivation.
On the other side of the table, keeping track of quizzes, tests, sessions, and assignments has become easier with the help of an LMS. By using an LMS, teachers can improve their teaching methods and capitalize on the limited amount of time for their curriculum.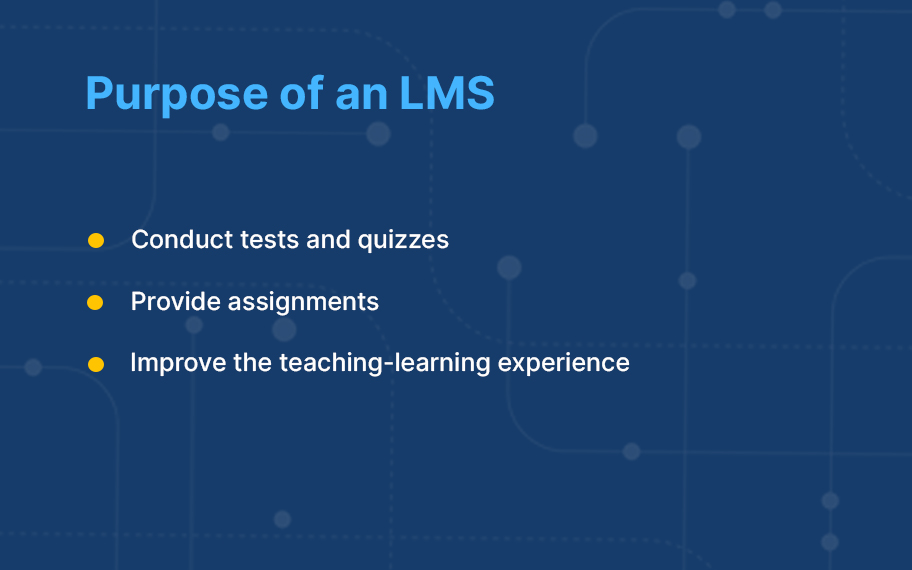 The Need for LMS in Today's Education Industry
NEP 2020 highlights the necessity of digital infrastructure. To address the scale, variety, and complexity of technology adoption in India, it is necessary to invest in the development of interoperable evolving digital infrastructure in the education sector. This will guarantee that despite the rapid advancements in technology, school systems do not become obsolete. Additionally, this policy encourages the use of digital repositories and online examinations. Given how quickly the world is changing, it only stands to reason that adaptation is the next step. This has made LMSs far more important than before.
Teachmint's Integrated School Platform give both teachers and the school's administration access to a single, central portal that helps them adopt NEP guidelines.
Modern technology is used in an integrated school platform to effortlessly bring together and enable all management and administrative duties. With the help of an integrated school platform, schools can manage every aspect of their operations with a single click. It makes it easier for all concerned parties to monitor all actions taking place within a school. An integrated school platform's main advantage is that it unites all stakeholders under a single umbrella. They are informed of data that is pertinent to them and kept up to date with the help of the platform.
Read: How Teachmint Can Help Your School Enable NEP 2020 Guidelines

How does an LMS facilitate learning?
Managing a large number of students and online courses can be difficult at times. A learning management system's tailored learning paths, on the other hand, take into account the preferences of each student and ultimately point them in the proper route. It makes the learning process more manageable and helps in fulfilling the learning objectives.
In addition, the ability to track and evaluate the success of the class is another important aspect of the learning management system. It provides data on the performance of the learners through dashboards and insights.
Benefits of Learning Management Systems
A platform that is user-friendly for learners is essential to provide an excellent learning experience. An ideal LMS is responsive on any device and makes accessing learning content simple. Therefore, learners must be able to access and complete studying their lessons from any device, any place, and at any time.
Let's deep dive into the benefits of LMS.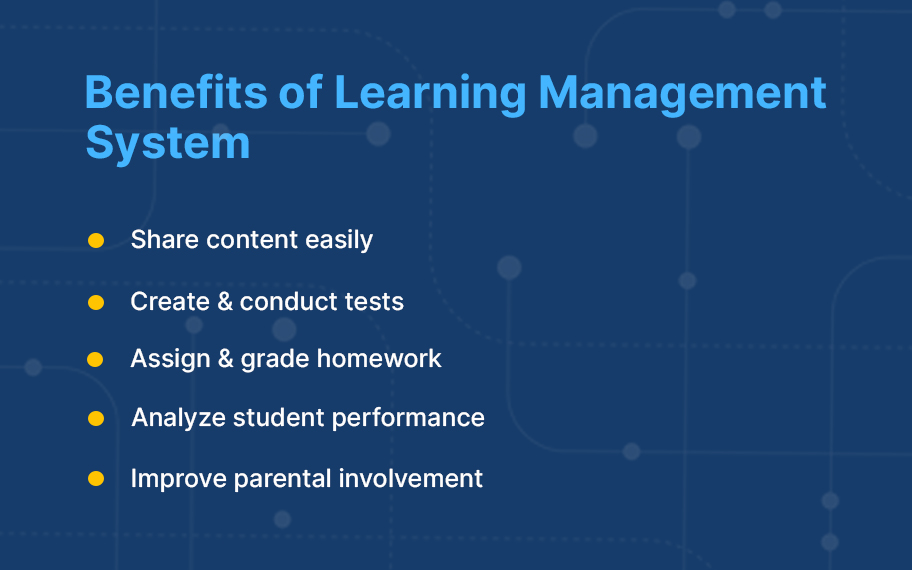 Teachers can share their content with students instantaneously
One of the best advantages of LMS is that it helps in sharing learning materials. As a result, all students have access to the lesson's objectives, activities & resources, and they are aligned with the learning objectives.
Create and conduct tests within minutes
With an LMS, assessments can be completed online in a variety of ways. Short quick tests, quizzes, and multiple-choice questions all offer the chance to provide prompt feedback. Additionally, it is possible to create and schedule tests in under a minute. Also, Teachmint's LMS allows teachers to access to a question bank of more than 20 lakh questions to design assessments that suit the needs of their students. Leveraging such a comprehensive bank of questions, teachers can create and schedule an exam in relatively no time.
Assign and grade homework according to the age/class of the students
The homework app helps teachers share feedback with the students. The scope and variety of homework vary greatly depending on the age group. While a student in the 10th grade can have a 12-page essay due the following day, a first-grader might have homework that involves practicing for a dictation exam. Teachers will be able to give all forms of assignments to all of their courses in the format that works best for them. The instructor has freedom and flexibility in this regard.
Analyse student & classroom performance easily
The best learning management systems allow for the tracking of information about the students' progress and efforts. Due to student diversity and time constraints, it is challenging to design a consistent plan for teaching using traditional methods. LMS aid in resolving this issue by making it simple to monitor student progress and ensuring that predetermined milestones are completed.
A good LMS allows teachers to designate particular learning plans, establish targets and/or deadlines, monitor student progress, and assess the successful completion of these targets and deadlines. This helps in understanding and developing learning strategies that are tailored to the needs of students. This makes it easier for students to achieve their milestones.
Such tools help teachers by collating data that they can use to identify students' areas of improvement and assist in addressing them. For instance, if they notice that one learner is lagging behind, they can help them by providing extra training resources to aid in catching up. In case students are having trouble with a certain area of the syllabus, they can update and revise that section or add extra resources. Receiving such specific and targeted feedback and learning objectives enhances student motivation.
Suggested Read: 6 Ultimate Tips to Improve Student Academic Achievement
Clear doubts after class hours by asking the teachers directly in the LMS portal
We have already discussed how LMS allows instructors to upload study materials. However, at the same time, an LMS also gives learners the option to respond to or share queries with the instructor through the private and classroom chat. This can assist students in seeking one-to-one communication after class hours for better comprehension.
Make parents aware of their child's performance and share all updates
Parents can receive updated information and know their kids' progress through the Parent App. They can receive messages from teachers and administrators. In addition, schools can utilize automation to notify parents whenever a student gets a behaviour badge, test results, deadlines for homework, and more.
Parents can use the portal to get more involved in the school activities. They can connect with teachers to understand their child's learning curve. Also, they can voice their opinions infront of teachers using the portal. When parents and teachers are aligned, it helps in the holistic development of students.
How Do I Find the Best Learning Management Software?
The design, management, and dissemination of e-learning resources are all facilitated by learning management systems (LMS). It's a fantastic method for students and teachers to showcase their abilities at their own speed and in the most relaxing environment. The instructor can rapidly identify areas of communication breakdown by examining how well each student performs in examinations and quizzes.
Features of a Good LMS Software in 2023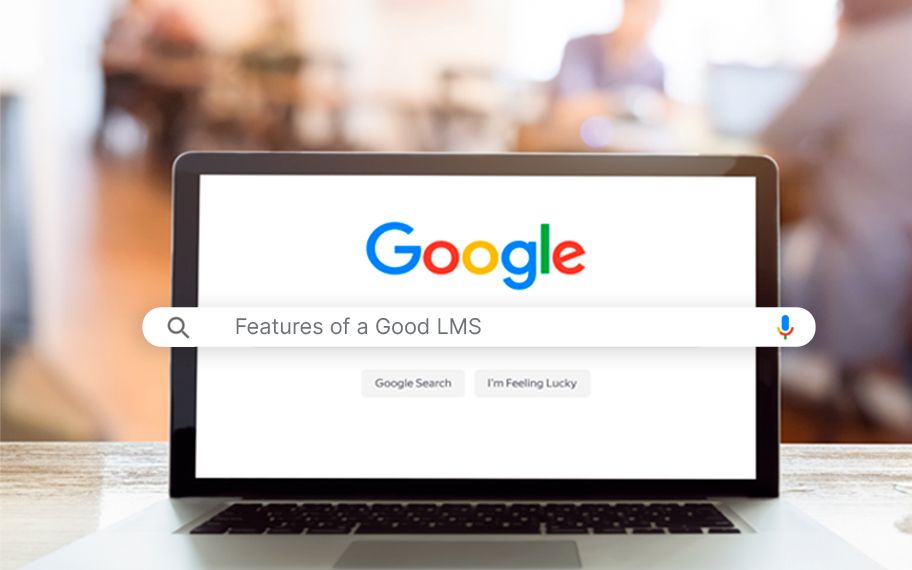 Here are some optimal features of good LMS software in 2023.
1. Automated Student Performance Report Generation
Every educational institution must effectively manage the actions of its students. School officials need to be aware of how students are using their talents. They should also be aware of the effectiveness of the instructional strategies and how students are picking up new information. Any educational institution will benefit from collecting data to measure all these aspects. Teachers and the administration can generate and see reports on a student's as well as the classroom's performance on external and internal assessments. Teachers can learn more about the skills their students have mastered with the use of performance evaluation data by tracking their accomplishments.
2. Increased Classroom Engagement
A major benefit of an LMS is the personalization it enables for student tasks such as homework, tests, and practice questions.
One teacher can't give individual attention to all students in the classroom simultaneously. Moreover, the learning needs of one student can vary vastly from that of another. By assigning homework and tests that are tailored to each student, teachers can bring about variety and specificity to students' learning. For instance, well-performing students can be assigned higher-difficulty assignments and those that are struggling with some concepts can be given homework and exercises primarily focusing on those concepts.
Doing so, keeps students engaged at their level without making the lessons too easy or too challenging.
3. Ease of Sharing Study Materials
With the use of an LMS, it becomes simple for teachers to share notes and reading materials and it gives freedom to students to pace their learning. With the Study Materials feature of Teachmint, you can make the classroom a place for interaction, participation, and enjoyment in addition to learning.
4. Digital Classroom for Emergency Situations
A school LMS provides digital infrastructure so that even during a situation in which physical access to school is not possible, such as during heavy rains, there would be no interruption in student learning.
Teachers can conduct live classes via the LMS and utilize an online whiteboard that simulates in-class blackboard learning. Teachers can write or sketch on the online whiteboard as they teach, and students can converse and ask questions by using the 'raise the hand' feature on their devices. Teachers can also administer spot quizzes in the form of live polls during the lecture to engage students and track their attention and learning.
LMSs also offer an immensely helpful feature known as live class recording. It is, as the name implies, a recording that an instructor has made of a live class. The recording is available for students to review later and can be accessed offline as well. It benefits instructors by lessening their burden in terms of the amount of attention they must provide to each student. It makes sure that any student is not left behind in case they were unable to attend the classes.
5. Making Parents an Integral Part of the Learning Ecosystem
Parents can use the Parent app to stay updated with their children's progress and become an integral part of the learning ecosystem. Earlier, parents had to wait until the parent-teacher conference to learn about their kids and discuss how they participate in school activities. Now they can keep an eye on their child's actions with only a few clicks. They are also able to connect with their children's schools from any location at any time & get in touch with the school administration whenever required.
Why Your School Needs an LMS
All of your classroom and teaching-related needs can be satisfied by an effective and feature-rich learning management system. You can simplify the procedures and automate repetitive tasks. An LMS can also be quite helpful while teaching online. But is that all? Let's find out.
1. Connecting all Stakeholders in One Place
An LMS allows all stakeholders to get connected in one place.
Teachers can instruct students, upload study material, and administer & grade tests.
Students can attempt tests, see their scores and performance, and share queries with instructors.
The school management can oversee teacher and classroom performance, the content of learning modules, and the progress of each class and student.
Parents can see their child's performance and scores and contact the teacher or the school when needed.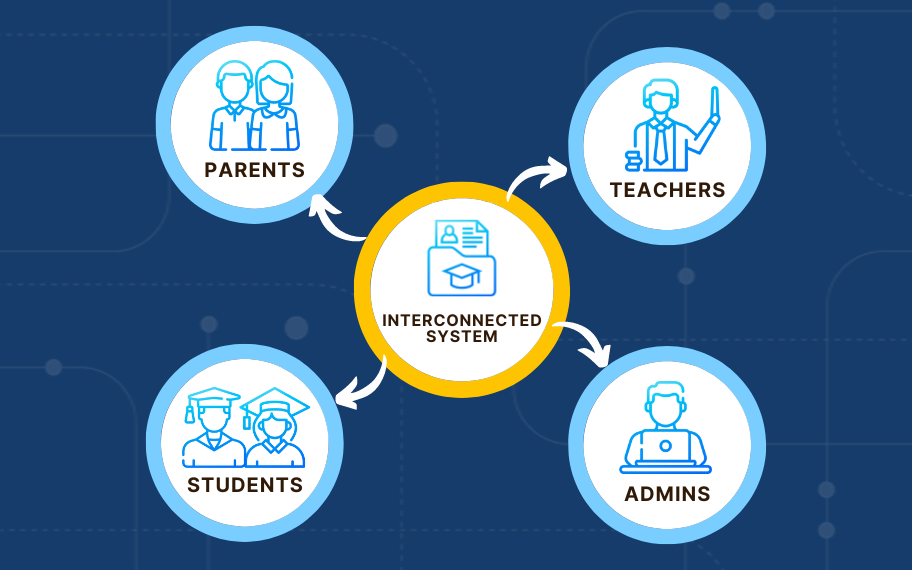 2. Improving the Teaching Environment
While running schools may seem simple, it may become challenging if problems like classroom overcrowding go unresolved. It is crucial to collect accurate information that will aid in determining the proportionate sizes of classrooms based on the number of instructors and unique learning requirements. Teachers who take designated classes can be assigned to classrooms by the school administration.
3. Improved Student Learning and Performance
Offering students a stimulating learning environment is the primary goal of any educational organization. A school LMS enables teachers to observe and track individual performance of every student through the use of tests and assessments. This, in turn, helps them prepare tailored lessons for their students to match their learning needs. Such needs-based teaching focuses on students' overall improvement and tackle their weak points to improve their learning and performance.
Why Choose the Teachmint Integrated School Platform?
By now, there should be a general understanding of the numerous benefits that an integrated school platform can provide. Without a doubt, these resources can make sure that a school runs well and that students perform better every year.
Teachmint's digital content offerings bring competency-based learning to classrooms and addresses the achievement gaps in learning outcomes. Additionally, it provides assessment instruments that can be fine-tuned to align with the skills, dispositions, and learning outcomes listed for each topic and each student in a specific class.
Different learning modalities, including experiential learning, competency-based learning, and activity-based learning are given special consideration. It is also possible to strive towards adherence to NEP guidelines with the use of the following Teachmint features:
1. Digital content includes DIY and practical videos to provide a deeper comprehension of ideas and a means for hands-on learning.
2. Tests, homework, and practice questions facilitates interactive classroom learning and enhanced engagement.
3. Advanced reports and analytics offers a deeper understanding of students' progress and performance.
4. Multilingual mobile app with 20+ languages accessible by all stakeholders.
5. Exam planner for accurate scheduling of assessment exams.
6. A 360-degree holistic report card with the use of the report card generator.
In summary, Teachmint seems to be the best option for NEP compliance for your educational institution. Teachmint's ISP takes care of the requirements of all stakeholders. It allows administrators to monitor all academic activities, parents to communicate with instructors, students to measure their progress, and teachers to increase their output.
With the Teachmint Integrated School Platform, admins can make their school NEP-ready!
How Much Does a Learning Management System Cost?
While you cannot put a price on quality education, the leaps in technology have made digital educational tools like school LMSs a lot more affordable than just a few years ago. Teachmint provides a cutting-edge integrated school platform for the schools of tomorrow. It combines the best components of school administration, teaching, and learning under one roof.
The best way to characterize an integrated school platform is as a well-organized, interconnected web of tools and technology that cooperate to make learning, teaching, management, and analysis simple & efficient. Providing each stakeholder with the appropriate amount of information as and when they need.
To learn more about the pricing and features of an LMS and ERP customized for your school, please visit our website.