CBSE 12th result 2023: After a long wait, the Central Board of Secondary Education (CBSE) finally declared the results of the Class 12th board exams for 2022-2023. The CBSE 12th result 2023 has been declared online, and students can now check their scores and mark sheets through the official website of CBSE: results.cbse.nic.in or cbseresults.nic.in
In this blog post, we will provide you with all the essential details regarding the CBSE 12th Result 2023, including the pass percentage, how to check the result, and what to do after the declaration of the result. We will also discuss the significance of the result and the evaluation process and provide useful tips for students to deal with the result.
Know more about CBSE 12th result 2023
The CBSE Class 12 result 2023 has been declared, revealing that the overall pass percentage for this year is 87.3%. According to the results, girls have outperformed boys by a margin of 6.01%, with a pass percentage of 90.68% compared to boys at 84.67%. Among the different regions, Thiruvananthapuram has recorded the highest pass percentage of 99.91%, while Pune stands at 87.28%. On the other hand, Prayagraj has registered the lowest pass percentage of 78.05%. This year, Jawahar Navodaya Vidyalayas (JNVs) has emerged as the top-performing school with a pass percentage of 97.51%

Ways to check CBSE 12th result 2023
On the homepage, click 'Senior School Certificate Examination (Class XII) Results 2023'
Enter the required details, eg. Roll Number, School No, etc
The result will open up on the screen
Go through the same and download the CBSE 2023 result
CBSE Class 12th result 2023 - Statistics
Top Zonewise Rankings - CBSE Class 12th Result 2023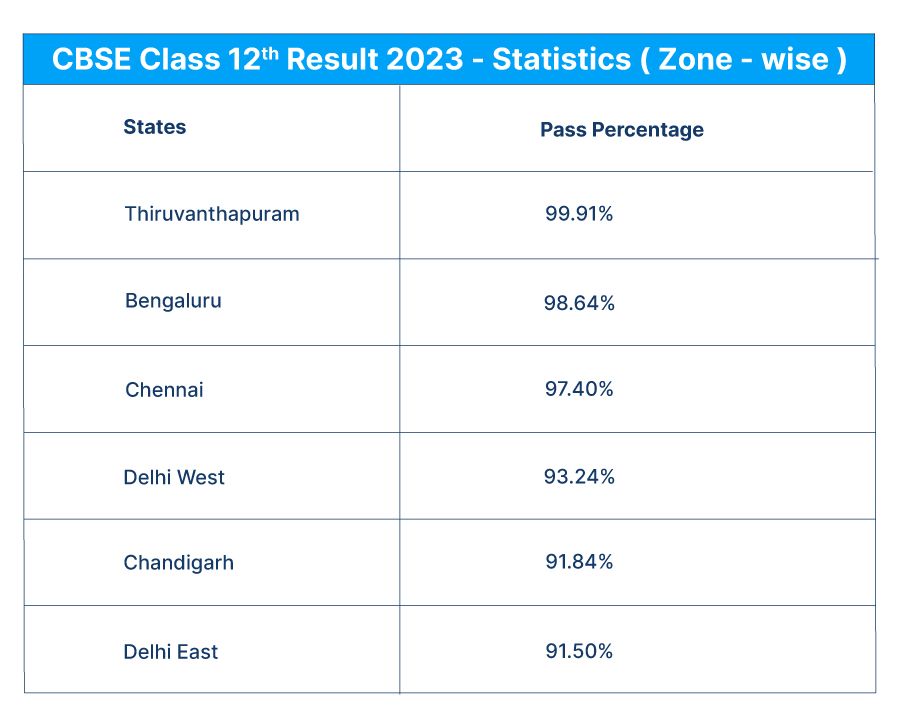 Year-on-Year Overall Pass Percentage of CBSE Class 12th Result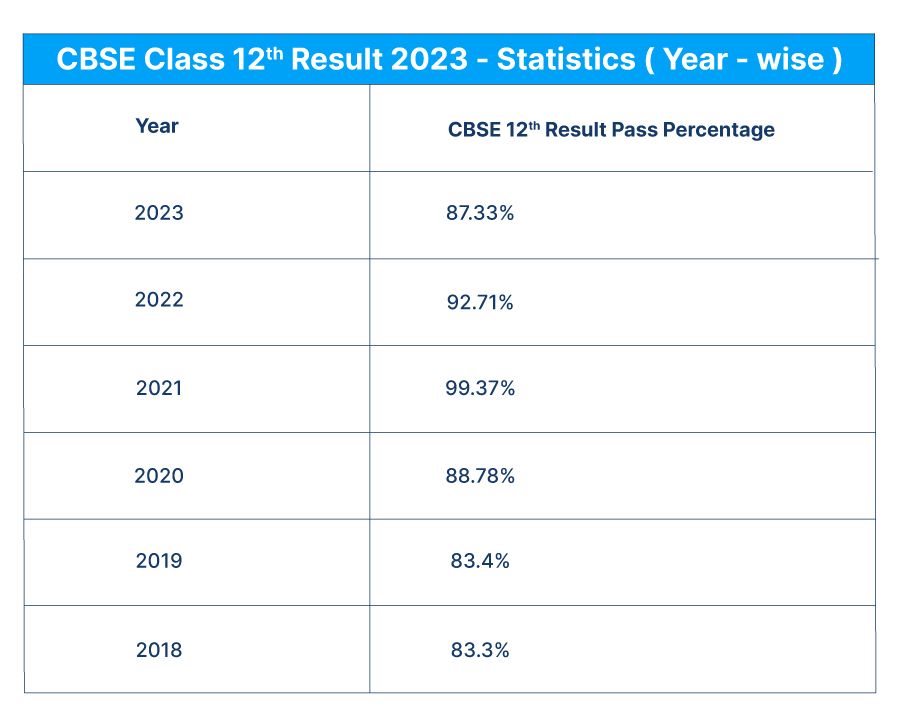 Topper's List - CBSE Class 12th 2023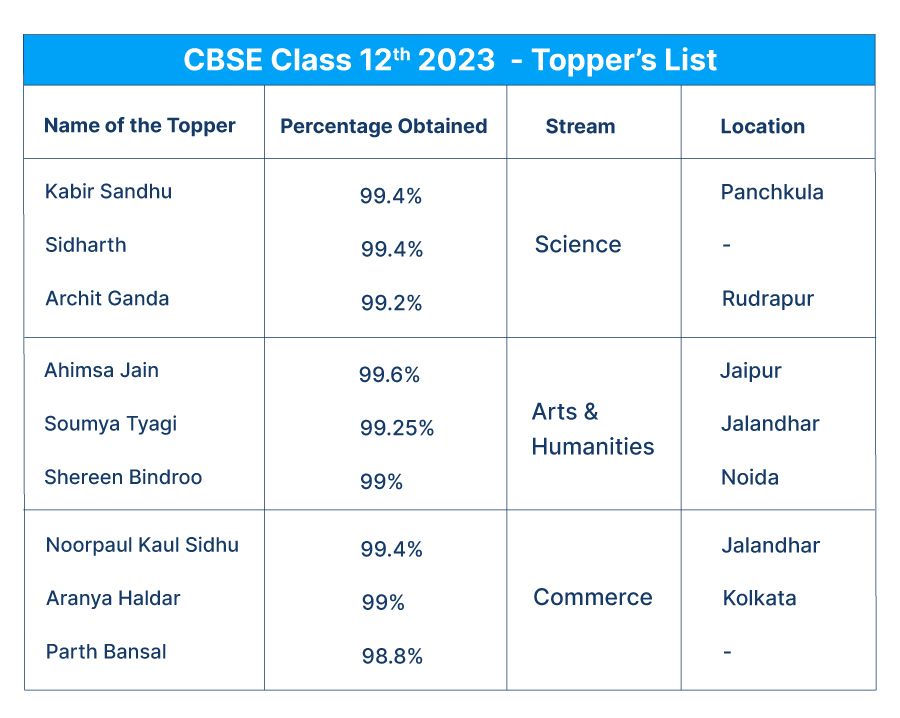 Opportunities in Engineering and Medicine after clearing CBSE Class 12th Result 2023
For students who have cleared their CBSE Class 12th board exams, numerous opportunities are available in engineering and medical science. These are highly sought-after fields, with many colleges and universities nationwide offering a range of courses in these domains.
There are several options for engineering students, including the Indian Institute of Technology (IITs), National Institute of Technology (NITs), and other reputed engineering colleges. These institutes offer undergraduate courses in various branches of engineering, such as Computer Science, Mechanical Engineering, Civil Engineering, Electrical Engineering, and more. Admissions to these colleges are usually based on entrance exams such as JEE Main and JEE Advanced.
Similarly, several options are available for those interested in pursuing a medical career, such as the All India Institute of Medical Sciences (AIIMS), Jawaharlal Institute of Postgraduate Medical Education and Research (JIPMER), and several other reputed medical colleges across the country. Admissions to these colleges are usually based on entrance exams such as NEET.
Students can explore other fields besides engineering and medicine, such as law, management, architecture, and more. Researching different colleges and universities is essential to find the one that best suits your interests and career goals. In conclusion, passing the CBSE Class 12th board exams opens up a plethora of opportunities for students, and it is essential to choose the right college and course that aligns with their interests.
Overall, the declaration of the CBSE 12th result 2023 has brought a mix of emotions for students, including excitement, nervousness, and anticipation.
Congratulations to all the students who have successfully passed their exams!
Stay tuned for more updates on CBSE class 12th results 2023.

Teachmint is an education infrastructure startup and the creator of the Integrated School Platform, an all-in-one school digitization solution. Teachmint's flagship product, the Integrated School Platform, empowers every stakeholder of the school with its one-stop solution equipped with advanced administrator tools, a modern learning management system, and a unique all-in-one fee payment solution.
Get overall school performance, subject-wise performance, & individual student performance with a single click. Analyze your school results with Teachmint's CBSE Result Analyser
Checkout Top schools in Bangalore here