Tucked away from the bustle and chaos of the city, is the small town of Mainpuri. It wakes up to the soothing and pleasing music from Sangeet Pravah World, a venture by Pandit Avadhkishor Pandey. Pandit Avadhkishor Pandey, a multitalented and multifaceted musician, hails from Dhanmau village in Uttar Pradesh.
Louis Armstrong has said that music is life itself, and that stands true when it comes to Shri Avadhkishor Pandey. Ever since he was little, he has had a strong inclination towards music and the nuances of it.
He has been teaching for more than two decades. While people go behind fame and money, he is bent on staying true to the roots and has moved away from the conventional methods of teaching music.
"It is easy to create followers, I want to make people independent and enable them to become creators."
He fuels the passion that students have and nurture their creativity. Rather than focusing on modern methods, he teaches the basic grammar of music and ensures that his students understand the essence of the art form. His children are taking his legacy forward.
Online teaching is not a new realm for Shri Avadhkishor Pandey. He has been using YouTube for a very long time and has around 600k subscribers. He came to know about Teachmint through a YouTube video and within 3 days, more than a thousand students enrolled for his classes on Teachmint.
"I thought teaching over 1000 students using an app would be difficult. But the effortlessness with which I can use Teachmint is commendable."
He uses Teachmint three times a day for teaching vocal exercise, harmonium, and music. He says that his network keeps increasing every day.
One of his favorite things about Teachmint is the live class recording feature and he added that all the features that he is using are exemplary. He has also used the online store where teachers can create their own websites.
"Whatever I am is because of blessings from my elders and teachers. My guru taught me the basic grammar of Sanskrit and since my foundation was strong, I went on to take a post-graduate degree in the same. I did that on my own. I did not need any further guidance. This inspired me and ever since I have been bent on music and its grammar for that's what lays a strong foundation."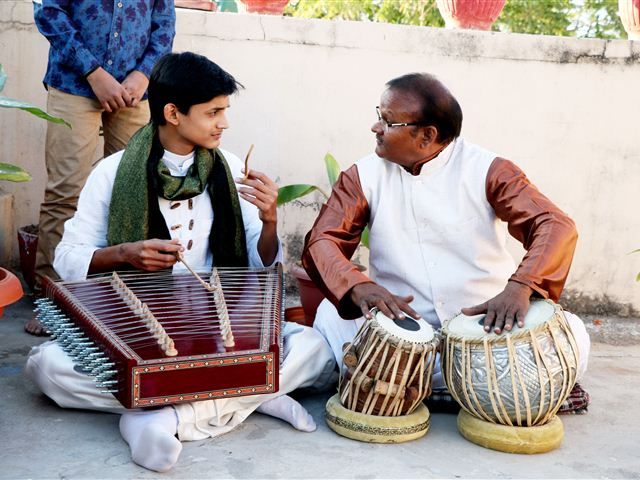 "Students need to know how to arrive at the solution and not to be handed the solution. Teach them the ways so that they can stand on their own. I believe that's what teaching is all about."
As mentioned, he has incorporated this philosophy into his methods of teaching. He starts by teaching the basic grammar of music. His son, Master Nishad, and his daughters are following his path and taking his legacy forward. He has written many Songs, Poems, Bhajans, Ghazals, Thumries & School drama for students.
Shri Avadhkishor Pandey is a musician par excellence and his talent knows no bounds. He envisions taking his philosophy worldwide. His music channel is completely free of cost and is easily accessible to all. We are delighted that he is a part of Teachmint.