The Ideal Resume for Teachers
You must have come across the phrase, "The first impression is the last impression." In the professional world, your first impression is through your resume. Writing a professional resume for teachers is sometimes tricky because there are several details to include: educational background, certifications achieved, languages learned, and any research work. The best resume format for teachers is the chronological layout, listing your most recent accomplishments at the top. Let us guide you in creating a job-winning resume as a teacher.
Firstly, note that almost all kinds of resumes have general details like your name, photograph, address, and contact information such as email address and phone number. Everyone formats their resumes differently. Let's learn what definitely should be included in the chronological resume for teachers.
1. Career objective:
This is the first thing seen by the recruiter. Your career objective (also called a professional summary) gives the recruiter an idea of what you can offer to the organization. This is an introductory paragraph – keep it brief. Include the details of your experience as a teacher, classroom skills, and educational credentials in just 3–4 sentences.
This is how you could draft your career objective:
● Start with a word that defines you the best, for example, educator, compassionate, experienced, etc.
● Mention the classes that you have taught before.
● Mention your most relevant qualifications for the job applied.
● Mention your years of experience.
● Mention your career goal.
Sample career objective
Compassionate economics educator with 6 years of experience in teaching economics to senior secondary-level students. Certified teacher with a background in working with renowned schools and seeking to leverage my skills to approach the position of economics professor and teach college students.
2. Work experience:
This is the next thing that attracts the recruiter's attention. Your listed achievements speak volumes about you as a professional. Let's learn how to list work experience in resumes for teachers.
● List the jobs that you have done so far, with the most recent at the top.
● In the heading, while mentioning the work experience in a particular organization, list the job title, the organization's name, and the tenure or period that you had worked there.
● Next, describe your responsibilities, achievements, and main learnings from each experience in 3–4 points.
● If possible, highlight the most relevant achievements using the STAR (Situation, Task, Action, Result) method.
Sample work experience
Senior Teacher – Economics, Canterbury Public School (August 2019 – March 2021)
Qualifications and Responsibilities:
● Educated senior secondary students about varied economics concepts, policies, etc.
● Conducted workshops to transform and boost classroom learning. Creating a fun yet practical environment ensured a higher-grade average for classes as a whole.
3. Qualification summary / educational background:
Teaching is the only profession that shapes the future of all other professions and professionals. Therefore, they must be well educated and certified as well. These are most of the significant academic achievements and credentials you must include:
● Bachelor's/ Master's/Ph.D. degree(s)
● Additional certifications and relevant workshops
● Language specializations
● GPA score or grade percentage
● Details of published research work
Sample Educational background
● German Language Specialist
German Embassy, Delhi, India
Completion: 2014
● Secretarial Practice
YWCA, Kolkata, India
Completion: 2011
● Master of Commerce
DEF University, Mumbai, India
Completion: 2010
● Bachelor of Commerce
ABC University, Mumbai, India
Completion: 2008
4. Professional Skills:
This is the final important thing that the recruiter would be looking for in a candidate. The key to correctly mentioning the professional skills in your resume is to list the most relevant skill at the beginning, followed by the rest in decreasing order. Make sure that you list all the hard and soft skills that you possess as they all convey important information about you as a professional. However, try to list only those skills that can justify your experiences and achievements.
Here are some examples of hard skills and soft skills:
Hard Skills
● Curriculum designing and planning
● Creating lesson plans
● Maintaining detailed records
● Performance evaluations
● Grading assessments
● Tech-savvy
Soft Skills
● Excellent written and verbal communication skills
● Critical thinking
● Problem-solving
● Team player
● Able to work under pressure
Apart from the above information, a resume for teachers can also have more sections, such as:
● Experience as a volunteer
● References from previous employers
● Blueprints of lesson plans and curriculum
● Certifications from workshops and seminars
● Language proficiency certificates
● Other interests
The correct resume format for teachers
The presentation of your resume is the final step to perfectly display your candidature. Here are some basic formatting tips when it comes to resumes for teachers:
● Use simple, clear fonts like Times New Roman, Century, or Calibri.
● The font size of headings should be 14, and the font size of normal text should be 12.
● As far as the border is concerned, maintain a margin of 1.15 inches.
● Separate each section by providing ample space in between.
● Always save your resume file as a PDF document and include your name, the position you are applying for, and 'resume' in the file name.
● Ensure that your resume is well-edited and is not longer than 2 pages.
Sample Resume for Teachers
Finally, take a look at this sample resume format for teachers to guide you in your professional journey.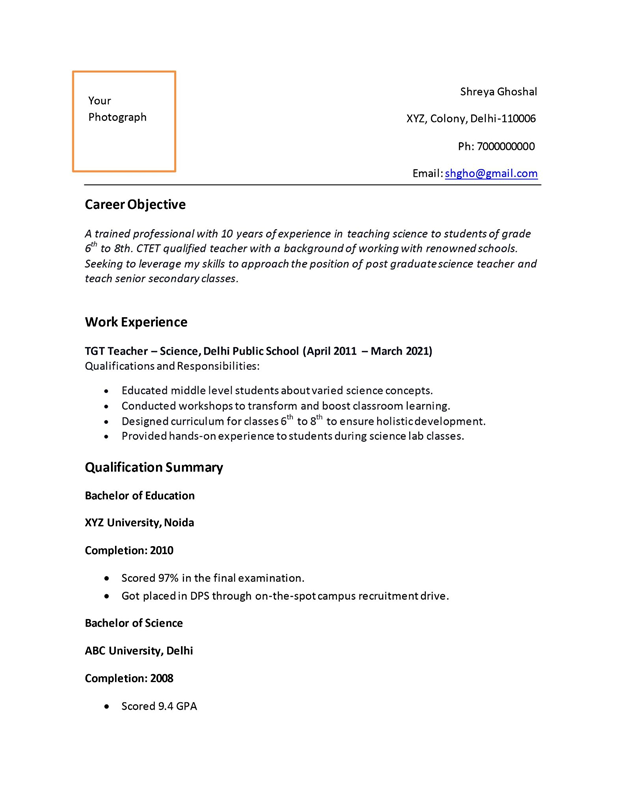 Hope the article helped you structure your resume better. We will be back with more informative blogs. Until then, stay tuned.
To bring ease and efficiency to the table, it is of utmost importance to digitize your school. With a brilliant suite of features, the Teachmint Integrated School Platform makes the process of management, teaching, learning, and analysis- easy, effective, and practically consolidated with one another. Check out the features here.