High-quality education seems to come at a good price! For generations, students and their parents have paid school fees without complaining. They enthusiastically withstood long queues, missed work, traveled significant distances, and set aside time from their prepared calendars to "pay their child's fees" to institutions, schools, and colleges. Schools and colleges, on their end, took their obligations sincerely as well, keeping track of fees collected and compiling accounting records session after session, repeatedly throughout the years.
Student fee management has experienced an evolution with the introduction of technology for electronic payments, which is one of the most important tasks. Even though it took a while for academic institutions to hop on the e-payments bandwagon, schools nowadays are clearly aware of the advantages of making a wise investment in a leading online system for collecting school fees.
What is a School Fee Management System?
As the names indicate, it is a software application that was created specifically to regulate the processes and calculations relating to fees. A typical human activity is packed with errors. You could, however, not always rely on the results depending upon the effort. A system will provide you with error-free reports and will handle each student's accounts at the Institute. This application can be used by any teaching or academic institution to improve results and achievement. Institutions can certainly simplify their daily routine by using this technology.
It is an essential element of the school management system since it facilitates the processes of collecting fees and issuing receipts much simpler and much more effectively. The payment gateway interface enables it simple for parents to make payments for tuition fees digitally. It also sends out notifications regarding due dates, fee submission deadlines, receipts, and other important dates so that guardians are not fined.
What Requirement Should a Fee Management System Fulfill?
The system for managing the school fees is a type of technology that knows how to automate school fee collection and how to automate school invoice. The school administrator benefits from automated fee collection, receipt generation, refund generation, and invoicing notifications. Both the student and the school administration benefit from increased productivity, fewer maintenance costs, and time and effort savings. The system's major requirements may be broken down into two categories: functional and non-functional.
Functional Requirements
It should allow your institution's administrative staff to add and remove new students.
It should allow the institution's administrative staff to add, administer, and oversee the curriculum and associated expenses.
Users have the ability to access invoices and pay them.
The platform would do well to notify both the customer and the school's administration about the previous payments.
The three major parts of the system for managing fees in a school include the following:
User
The user only needs to log in to view the invoice, pay for it, and download it for personal records.
Administrator
The school administrator creates accounts for new students, determines the amounts owed, and prepares receipts for the children to receive.
System
A good system for fee management knows how to automate school invoice and track fee payment receipts. The system also notifies the student, parents, and the school administration when a fee payment is overdue for payment.
Non-Functional Requirements
The basic non-functional requirements of the fee management system are as follows:
Usability
The primary non-functional necessitated by a fee management platform is usability. The user interface (UI) should always be understandable to everybody and provide access to the necessary data without the requirement of technical skills. According to the requirements, other languages can be offered.
Accuracy
The system should know how to automate school fee collection and must also be accurate, which is a vital non-functional need. The fees determined must be accurate, reasonable, and concise.
Availability
The system must function at least throughout the academic session and must be maintained for an hour or less in the event of a failure. The response time for responses from the platform should be no more than two seconds.
Easy Maintenance
The system is required to be as simple to add additional elements and modify as feasible, in addition to being simple to maintain.
How to Automate School Invoice Management?
There are various ways to automate the collection of school fees. You may select from some of these options according to the resources and financial restrictions of your institution.
Free Software
The majority of the time, using widely accessible, free software pays off. You may organize your financial statements effectively using Microsoft Office Excel and Google Sheets, which are both free software options.
Even the free versions of all these software include amazing features that allow you to calculate each student's payment period effortlessly. It also employs the use of formulas to make computations simpler and more efficient.
Student fee-collecting tools in Excel or Google Sheets can be time-consuming and labor-intensive, but it saves a lot of time over manually logging each payment.
Accounting Software Packages
You may want to explore alternative accounting software if your institution has set aside funds for automation and cutting-edge technological support. Accounting software manages finances by monitoring, reporting, and collecting data.
It works best for institutions with a steady source of revenue. It is a great tool for maintaining a record of all expenditures and additional funds. The accounting system also generates financial statements that include all necessary details about an organization's budget. Several software packages also offer potential financial management improvement tactics.
Some of the best accounting software packages on the marketplace today presently serve as the ideal choice for small- to medium-sized institutions. Moreover, it is preferable for educational institutions receiving large sums of money at regular intervals to spend money on all-in-one school management systems and associated mobile applications.
School Management System
Essential operations of an institution, including money, are handled by all-in-one school management systems. It compiles the students' individual data and combines it with their present financial state.
Teachmint is a nice demonstration of the way an automated fee collection system is an essential addition to a management system. It smoothly integrates with other school operations to enhance the portal users' experiences. Utilizing the student database, the fee management module makes all the financial data available on a single platform.
This management system may additionally offer a detailed record of every place the money is spent. Parents who want to make sure that their child's tuition money is being utilized wisely absolutely appreciate the openness.
How to Automate School Invoice Using Features and Tools of Teachmint
Technology-driven digital payments have transformed the processes for collecting fees and managing them. The student fee management is an essential component of the school management system, makes fee collecting and receipt generating considerably simpler and more productive. The all-inclusive system has the capacity to automate every step of the fee collection and evaluation procedure.
The technology enables paperless and hassle-free administration, saving up to 95% of human labor. Moreover, it has the functionality to compute payment histories, discounts and charge dues automatically. The distinct features of Teachmint's fee management solution include the following to help you how to automate school invoice:
Fee Configuration
The consumers will have the choice of creating different fee structures. The information that has to be provided includes the class and sections, the fee category, the deadline, and the amount, facilitated by posting. The exact data will appear on analytic accounts and statistics segmented by classes. The amount will also be added automatically to the computation of the fees at the same time. There is also a feature to view the fee structure of the institution and also know how to automate school fee collection. The format or class-based layout of fees is completely open to the users. There are two ways for users to explore the fee structure:
Structured View
It offers details on the various fee structures that are offered for fee collection. The fee title, category, grades, invoice sequence, payment date, and total yearly fee are all specified in detail. The payments can also be adjusted according to the needs. A precise explanation of the fee division into taxes is also provided for more details. The presented structures are always subject to change by the school administration.
Class-Wise View
As the name suggests, the details will appear as class-specific data.
Concessions and Other Offers
The system needs to give users a section to design and enter any special concessions or offers when the time comes. The user must provide the title, kind, and percent of the concession before picking the classes or students to which it will be provided. The subcategories for any offer or concession include admissions fee, event, library fee, maintenance charges, and any additional category. The discount can be in the form of a definite amount or can be a percentage.
The school management has the choice of choosing any grade, division, or person from the student list. They could also implement the concession by searching for the student's name or contact information.
Moreover, it enables the viewing of the add-on and regular concessions. The regular concessions include a summarized data table on the offer title, amount (or percent), and charge category.
Details can be changed or removed. Users are able to get and share the record of students who are eligible for a particular standard discount.
The additional concessions represent the amount of the fees that have been waived. Furthermore, it is shown in tabular form, which includes details about the student's name, contact information, grade, and group in addition to the reduction price. For informational purposes, the purpose and invoice number are displayed as well. Every student's name or contact details can be found on the student database by using the search feature. The administration of the institution may also eliminate any concession category as appropriate.
Multiple Payment Options
The guardians require a reliable payment system that eliminates the hassle of waiting in long lines to deposit fees and guarantees transparent costs. In addition to offering these, the parents may count on quick transactions from several reliable sources. Furthermore, users have the option of using check or DD payments. Because our system was developed to manage all kinds of financial transactions, schools shouldn't be worried.
Multiple methods are accessible for online transactions via Teachmint's fee management: UPI payments, debit or credit cards, net banking, e-wallet, etc. Multiple payment gateways are part of the fee management portal, such as Razorpay, PayU, Easebuzz, and Cashfree Payments. Some of the payment options might charge a minimal percentage of processing fees, which are already mentioned in the payment area for consumer clarity.
Fine System
Any sort of fee can indeed be charged a fine, and the period of time can be as long as needed. The fine cost per day will be determined by the school officials, as would be whether it must be levied from the day the session begins or otherwise. Only particular kinds of fines can be dealt with via the later approach. Getting rid of any fine sort at any moment without restoration is easy.
Also, the implementation and removal of fines will be monitored in real-time in the fee computations. Registration, cautionary, sport, security, computers, virtual class charge, or laboratory service charge (usually applied on damaging any apparatus), and countless additional types are offered for fine options available. Teachers and administrators must fill out forms in order to levy a fine.
The students subject to the fine would be presented with the important details computed on that same screen.
Detailed Reports
The cost of attending classes involves engaging with various fee collections, their options, payments via different payment channels, the implementation of various fines, reductions, and other similar expenses. The data can sometimes become a little jumbled, irrespective of whether the top level of the organization is handling it. Every institution requires a summarized report. There will be numerous categories because there is a lot of data to organize.
Teachmint's fee management system operates under this underlying concept and offers reports from many viewpoints to provide whatever information is required. Whether a record is needed for a student, installments, a department, a division, or for any additional reason, it may be found on our platform along with a more in-depth version.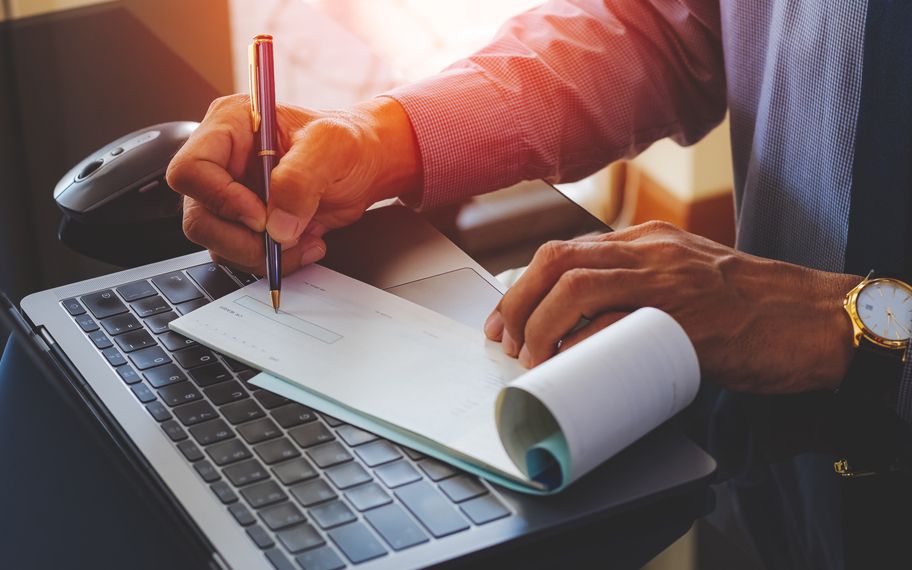 Benefits of Using Automatic School Invoice Management
There are more advantages to automating your school's fee collection than you might realize. Invest in a fee management that knows how to automate school fee collection to enjoy the advantages of an automated school invoice. However, adopting an effective and efficient school management system is appropriate for use in educational institutions. Fee management solutions used in various institutions can be implemented both as a module in the school management system or as a separate system. The key benefits of the system for automating the school invoice are as follows:
Reduced Paper Wastage
The obvious advantage of adopting technology is less paper usage. Once the institution considers the features of any fee management tool on how to automate school fee collection and utilizes it to automate the fee invoices, you won't need to type or print out financial documents.
Each function tab corresponds to a function that is related to fee collection. By using the platform, you may instantly receive payments and maintain track of the students' monthly payments.
Say farewell to the time when you had to check multiple records and books to see whether a particular student had paid all of their amount due.
It is also past due for all institutions to adopt a culture of sustainability. The first step in your institution's sustainability path is to go digitized and paperless.
Easy and Efficient Payment Tracking
Manual payment reporting demands a significant amount of time and work. You will first need to verify the profile for which the transaction is being made, note the amount paid, adjust the recipient's current balance, and maintain the payment receipt.
The few employees who must monitor all student payment information are swamped by the amount of work to be done.
Teachmint's fee management system offers an automated process that exempts the payment amount from the student's outstanding amount. When you access a student's credit record, a table that includes a listing of all received and unpaid fees is generated. Each element is appropriately labeled.
The payments for the student are classified appropriately depending on their status. Whatever elements require greater focus than the rest can also be determined using the indicators that show the status.
To create the list, a user needs only perform a simple search on the student's name. Then you may look at their track record. As simple as a breeze.
It also allows you to print an invoice if you want to maintain a duplicate manual document. You have the option of printing either a receipt for a single transaction or a receipt for the combined payments that have been paid.
Secured Database for Record Keeping
Digitalization, in practice, makes utilization of cloud-based solutions with vast data storage. Also, the system's design permits it to copy the information so that it can be used as a backup or reserve.
Cyberattacks against the infrastructure are growing increasingly frequent as computerized automation grows. There are countless instances of hacking, fraud, and cyber identity theft. Businesses and institutions are concerned about such cyberattacks. As a result, they are spending on a variety of strategies to stop cyberattacks.
The students' private information is fully protected by using a computerized school fee management system. It includes all of their personal details, including their credit data.
Timely Fee Collection with Automated Reminders
Similar to how simple it is for students to miss paying their fees, it's possible for the management to miss forwarding out a fee reminder.
Assign the job to a digital payment system that enables you to format regular messages or emails to be sent out a specified amount of time just before payment is due.
It is also possible to set up the platform to send off two emails: one two days prior to the deadline and a second on the actual date.
Additionally, you can set up your communication systems technology with trigger-based functionality to send an automated response to every one of your late payers the day following the due date.
In addition, many of these software packages offer auto-populating layouts that are filled with accurate data, such as the recipient's name and the amount owing, making the process customized while being automatic.
Thus, employing systems to automate payment reminder emails is a vital step in the automating of fee collection.
Various Payment Options
The students and their parents will be capable of paying for your facilities digitally if you provide a variety of contactless payment options, including a credit or debit card, bank transfer, UPI, and e-wallet. This will facilitate the collection of fee payments regularly.
There is no need for anyone to hang about the front counter waiting for students, to go through the mail, or to collect, calculate and sort the cash bills.
The transactions, processing, and reporting of that payment take place in the background by the system while your staff is working on other tasks.
When searching for a digital fee management platform for automation, ensure the application accepts the methods of payment you need.
In addition, by providing various payment options, you increase the likelihood that each student will receive their preferred payment option. Also, when students have the option to pay according to their convenience, they are much less prone to delaying timely fee payment, which means your institution will deal with a reduced number of overdue payments.
Conclusion
Digitalization of school fee collection promotes efficiency. It takes less time to collect payments from every student and reduces the amount of paper waste generated by the institution. Software for institutions that automates functions mostly supports activities other than data collecting. It helps administrators manage their finances more effectively, irrespective of the automation technology used.
Faculty and staff at institutions can streamline the method of collecting student tuition fees by moving to electronic invoices, providing a variety of online payment alternatives, creating automatic notifications, utilizing expense reports, and selecting the appropriate online payment platform. Every participant will experience the cascade effects of having a very well defined fee management that in a distinct and unique way, increasing the effectiveness and efficiency of their participation in the system.