In the digital age, conducting MCQ (Multiple Choice Question) tests has become a common practice in educational institutions, businesses, and various online platforms. With the advent of online test makers, the process of creating and administering MCQ tests has become more efficient and user-friendly. In this blog, we will explore the steps to successfully conduct MCQ tests online using an online test maker.

Choose the Right Online Test Maker
Selecting the appropriate online test maker is the foundation of a successful online MCQ test. Look for a platform that offers a user-friendly interface, customizable question types, and secure test administration. Popular online test makers often provide a range of features, such as question randomization, time limits, and instant grading.

Create Test Content
Once you've chosen the online test maker, it's time to create your MCQ test. Begin by drafting your questions and multiple-choice options. Ensure that the questions are clear, concise, and relevant to the subject matter. The online test maker should allow you to add images, equations, and multimedia to enhance the test experience.

Set Test Parameters
Configure the test settings to match your requirements. Define the test duration, question order (random or fixed), and any other specific parameters you want to enforce, such as one-at-a-time question display or a specific time limit per question.

Enable Security Measures
To maintain the integrity of the test, implement security features such as access codes, IP restrictions, and browser lockdown. This prevents unauthorized access and ensures that participants cannot cheat or collaborate during the test.

Test the Test
Before rolling out the MCQ test to your intended audience, it's crucial to conduct a trial run. Take the test yourself and ask a few colleagues or students to participate as well. This will help you identify any technical glitches, ambiguities in questions, or issues with the user experience.

Distribute the Test
Once you are confident in the test's accuracy and functionality, distribute it to your intended participants. Depending on your needs, you can share a direct link to the test, embed it on a website, or use an online learning management system (LMS) to administer the test.

Monitor and Analyze
During the test period, monitor the progress of participants. Many online test makers offer real-time tracking of test-taker activity, allowing you to identify potential issues or anomalies. After the test concludes, analyze the results and gather insights into participants' performance. Some platforms offer detailed analytics that can help you pinpoint areas of strength and weakness.

Share Results
Once the test is graded, share the results with the participants. Online test makers often provide options for instant feedback, score breakdowns, and even detailed explanations of correct answers. This not only helps participants understand their performance but also provides a valuable learning opportunity.
The advancement in technology has changed our lives in a lot of ways. It has even influenced the way we think. 10 years ago, if someone told you that you would be able to conduct and attend exams from the comfort of your home, would you have believed it? But look where we are now! Online tests, online classrooms, and online teaching have become a part and parcel of our lives.
These have become the new normal. Though the shift was sudden, teachers and tutors across the country have been resourceful and quick in adapting to the changes. It is true that a lot of teachers were apprehensive about the shift. They were doubtful about the ease and authenticity of online tests. Thanks to online platforms like Teachmint, teachers are enjoying a seamless online teaching experience. It helps with test generation and more. Tests and exams have been redefined. Conducting online tests is not a hassle anymore. The latest feature on Teachmint makes it even easier for teachers to conduct online tests. With a Machine Learning Algorithm, teachers can conduct MCQ Tests in a few simple steps, and here is how:
How to Conduct MCQ Tests Online
Open the Teachmint app and click on the "Create Test Button" under the tests tab.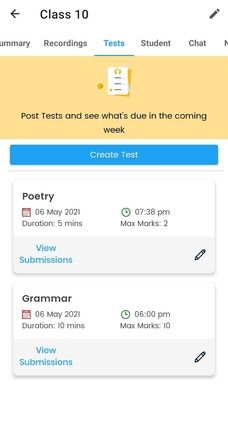 2. After clicking on the create test button, fill in the necessary details such as the date, time, lesson, duration, and likewise.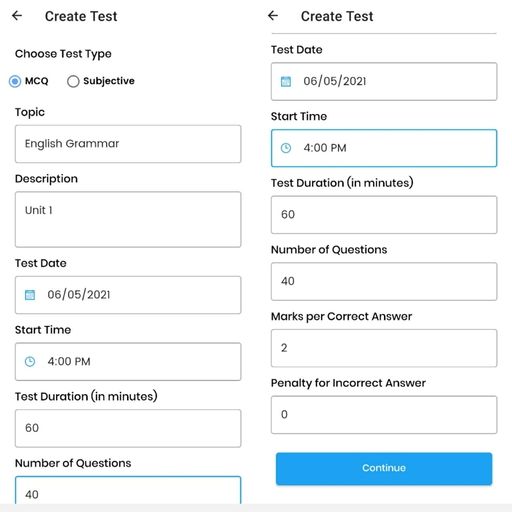 3. After filling in the details, click on the continue button followed by the "Add Question Paper" button.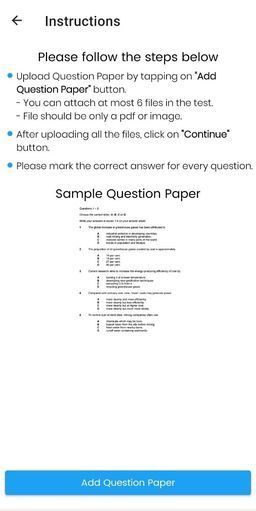 4. The following screen will appear: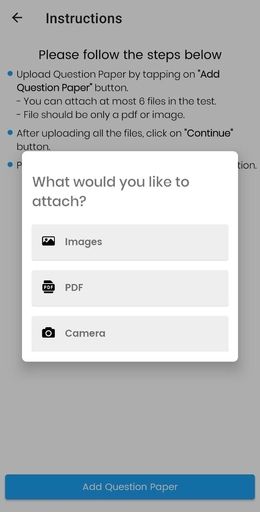 You can choose to add images, or PDF documents or click a picture to upload your question paper.
5. Teachmint's ML MCQ feature smartly detects the question and as shown in the below image, the detected area is highlighted.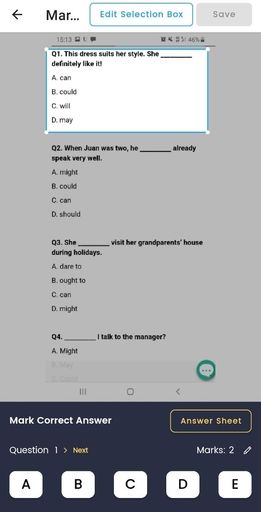 You can edit the highlighted area as per your requirement. For example, say that there are four questions on the picture (question paper) that you uploaded but you just want three of them to be on the test, you can choose the questions by using the edit selection box button as shown in the above image (Img.5).
Only these questions (the part that the teacher has selected) will be visible to the students.
The edit selection box (as seen on the top of Img.5) allows teachers to shift between questions and choose the questions that they want. This is an extremely useful feature that would help to save a lot of time and effort. If teachers have an inventory of questions or a question bank, they can just upload those and choose the questions that they want in a matter of seconds! This way, the MCQ test becomes more efficient for both students and teachers alike.
6. Once you have highlighted the necessary questions and marked the answers, your test is ready and will be saved: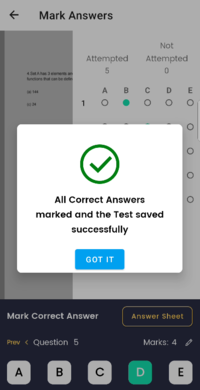 Students will be able to attend the test only during the time that you have selected. They won't be able to see the answers before or while attempting the MCQ test. This feature makes it easier for teachers to conduct MCQ tests. It allows them to choose the part that they want. While teachers get a chance to reimagine the way MCQ tests are conducted, students will find it easy to attend these tests since the format and pattern are simple to understand.
The education sector is undergoing a shift and it is heading in the right direction. With more and more brilliant features being added to the leading online teaching apps, it is sure to benefit the teaching and learning community.
To bring ease and efficiency to the table, it is of utmost importance to digitize your school. With a brilliant suite of features, the Teachmint Integrated School Platform makes the process of management, teaching, learning, and analysis- easy, effective, and practically consolidated with one another. Check out the features here.
In conclusion, conducting MCQ tests online using an online test maker streamlines the entire assessment process. By carefully choosing the right platform, creating well-constructed test content, and ensuring security measures are in place, you can administer effective and efficient MCQ tests in various educational and professional settings. Embracing online testing not only saves time and resources but also provides a seamless and convenient experience for both administrators and participants.
Learn more about Teachmint plans here.