"Leadership is the capacity to translate vision into reality." ~ Warren G. Bennis
It is the school leaders and administrators who ensure the smooth functioning of every school.  Their achievements and unwavering efforts deserve to be recognized and appreciated. Teachmint seeks to recognize and honor those Stars who give their all to elevating the quality of their schools.
Star School Ambassadors is a monthly program to recognize and reward the individuals who have put in extra effort to digitize their schools and make them future-ready. These are top users of our modules, who have not only streamlined their operations but also made the best use of our resources to raise their schools' effectiveness and efficiency.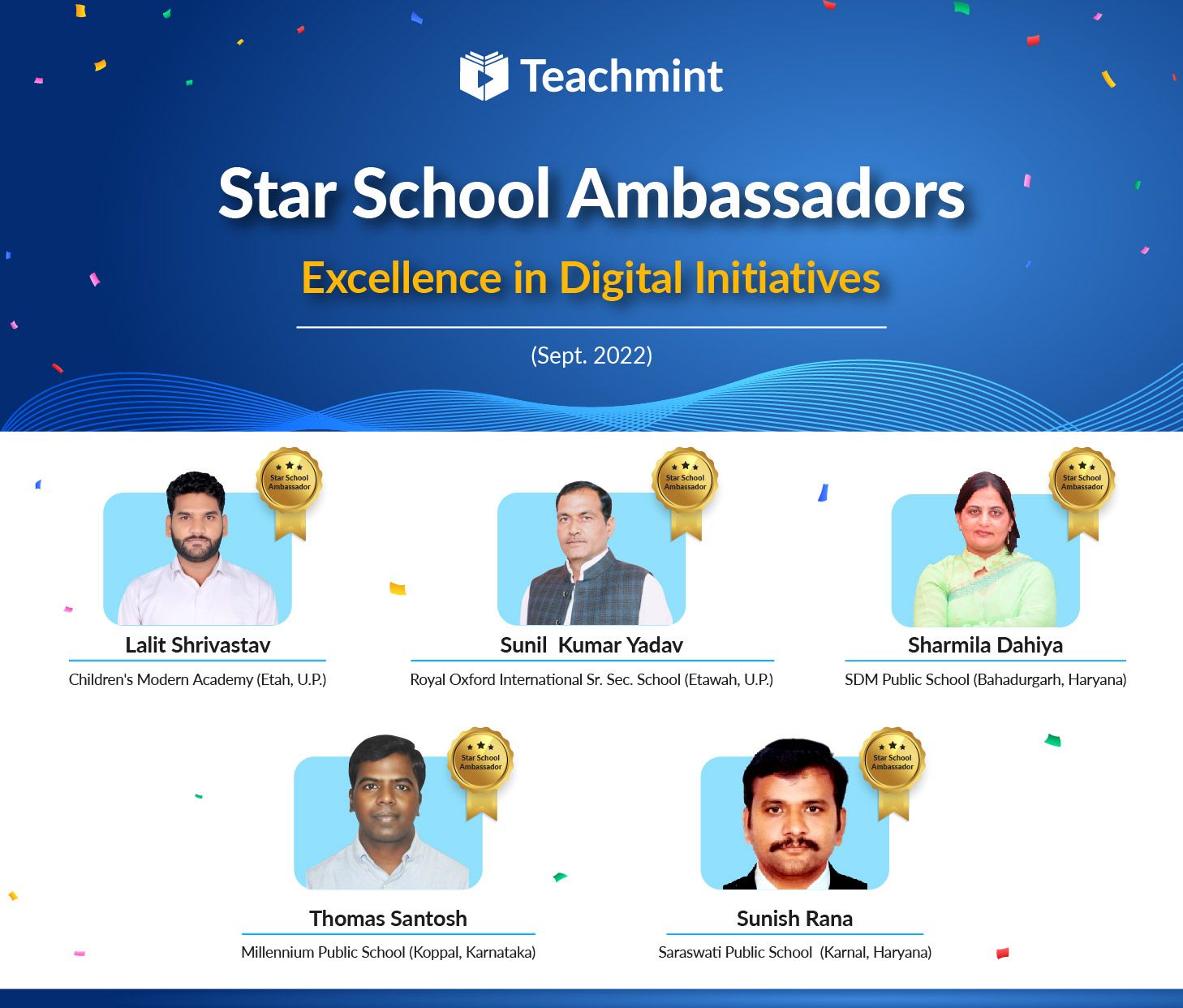 Teachmint congratulates these school leaders from all around India, who went above and beyond to digitally transform their institutions. You must be keen to know what the awardees have to say. Here is what the Star School Ambassadors for September have to say. Let us have a glimpse of their golden words!
"In my experience as an educator, and as a principal, I come across a lot of different teaching methods, plans, apps, etc. Since I am a firm believer in progressive teaching, I found Teachmint to be the best option as it enriches my working experiences through its unique features. Its features like homework, tests, attendance, study material, etc added value to our pedagogical strategies. A digitally enabled school can help you put together solid learning and school infrastructure. That is what we all need and that is what I found in Teachmint. "
- Ms. Sharmila Dahiya, SDM Public School
"It's time all schools embrace technology for learning and management. I am proud to be part of this changing paradigm of transforming schools through technology."
- Sunil Kumar Yadav, Royal Oxford International Sr. Sec. School
We have been able to solve the most challenging problems related to school and classroom management by adopting technological solutions. From securing our data to modernizing our classrooms, we have achieved it all.
- Thomas Santosh, Millennium Public School

"We have used Teachmint's finance and communication modules, due to which our school and parents have benefited a lot. Thanks to Teachmint"
- Sunish Rana, Saraswati Public School

"Technology is the way ahead! If we want to be future-ready, schools need to shift to efficient and modern solutions. I feel glad to be recognized as one of the exemplars of this change."
- Lalit Shrivastav, Children Modern Academy

Digitization is imperative for the success of schools. In addition to the best efforts, school administrators need the best tools to facilitate & streamline all the administrative and managerial tasks. This is exactly what Teachmint does as our integrated school platform facilitates all tasks and enables the school's efforts to be more effective. By leveraging these resources, the stakeholders will be able to give their best results.
We are sure that these Super Admins would inspire you to aspire towards greater heights. With Teachmint, you can stand out from the lot using cutting-edge technology. Transform the educational ecosystem by leveraging the benefits of our integrated school platform and be the next Star School Ambassador. Click here to take your first step toward being a technology-enabled school!
Suggested Read: How to Ensure an Optimum Learning Environment in Schools
Teachmint provides ed-infra to educational institutions. With our state-of-the-art lms portal, teachers can improve the teaching-learning experience. Our tools like user management help schools manage their everyday activities hassle-free.