Admissions Open!!! Sounds hectic, right? The phrase "Admission Opens" gives stressful vibes to parents and school management staff. Are you aware that there are more than 1.5 million schools in India? It means many amazing options are available for students to choose the best for their studies.
Most parents are fed up with the slow admission process. They have to take time off from their offices. It leads to both parties' tiredness and hecticness, especially for a parent who comes to school for the admission process.  But, nowadays, technology rules everything, so why not school admission management?
In this digital era, modern education now turns down the tables and leads to an easy admission process with an automated system created to streamline the admission process.
What is admission management system? Well, it is one of the easy ways to get school admission without waiting in line and taking off from your workplace. Moreover, students can easily fill out the form for admissions and make all the major formalities through this software. It is not only a blessing for parents and students but also assists the school staff in maintaining and monitoring records.
Let's learn in detail what is admission management system and why schools should use it.
What is Admission Management System?
Earlier, parents had to visit the school to inquire about the admission procedure status. The whole procedure took a minimum of 3-4 drives. It was a tiring process for both parties. Today we have multiple softwares to ease up the entire process of  admission management. If you are wondering what is admission management system? Then, let's learn about it in more depth. It is one of the most useful software for schools to streamline admissions procedures. Now parents do not need to wait in long queues for hours to submit admission forms.
This software is best for parents, especially those working and needing to take off to submit the admission forms.
School staff can manage the whole admission procedure with the help of an admission management system. The system collects student admission forms and documents and shortlists the candidates for admission.
Teachmint's software for admission management is completely user-friendly, and parents can easily fill out the admission form via this software. Parents can also easily check the application status and pay the fees via different gateways. Moreover, parents will get all updates via sms updates- one of the most useful Teachmint's software features. The online admission system ensures a smooth and proper flow of admissions procedures without manual intervention.
Why do Schools Need to Get an Admission Management System?
There has always been a lot of hassle and confusion during the admissions process. Additionally, the manual method makes it even harder for staff members and schools. During the busiest admission period, the school office is overflowing with papers, applications, and other paperwork. The software used for admission management provides a secure, centralized data management solution, eliminating this scenario. The cloud-based features make it possible to access data securely and more quickly.
The problems with admissions management have been greatly reduced by automation. The school management system's admission module generally improves the enrolment process flow. Additionally, it permits the staff to organize enrollment management and concentrate on other crucial tasks. In addition, you get to update and digitize your school's operations to remain relevant in the modern, highly technological world.
Many parents ask what is admission management system is in school. It is the best software for schools, teachers, and parents. Schools who opted for this software noticed up to 70% reduction in admission work.
A school needs an this kind of automated system for several reasons, including the following:

Make Process Streamlined and Efficient
It simplifies the admission procedure from submitting the enrollment application to minimizing the need for conventional paperwork and procedures. It guarantees the accuracy and efficiency of the process, minimizing the possibility of mistakes and delays.
Improve Communication
The use of a streamlined system for admissions creates a communication channel between the university and the applicants, enabling them to enquire about the status of their applications, get notifications, and voice any concerns.
Enhance Security
These kind of digital systems offer user access, user authentication, and data encryption to help guarantee the safety of sensitive data. It protects sensitive information from unauthorized access and restricts data leakage.
Better Data Monitoring
All the admissions-related data is centralized and organized by this system, making it simpler for schools to connect and manage the data. It offers insights into admission patterns and possibilities for enhancement. Moreover, it aids in reporting and analytics.
No Paperwork
Schools using the digital system for managing the admissions can save a lot of paperwork. It also leads to fewer human errors. Management staff directly check the application status on the dashboard and work accordingly. Registering to follow up with students and writing down their comments is unnecessary. Management staff can easily follow up with parents via sms update feature of Teachmint's software and update them about their admission applications.
Time-Saving
When school management adopts the admission management system, they save a lot of time. We all know that earlier admission was one of the longest procedures involving extensive documentation and sorting a heap of papers. Using this system also saves parents time. Parents can also get all the updates on their application status via sms update.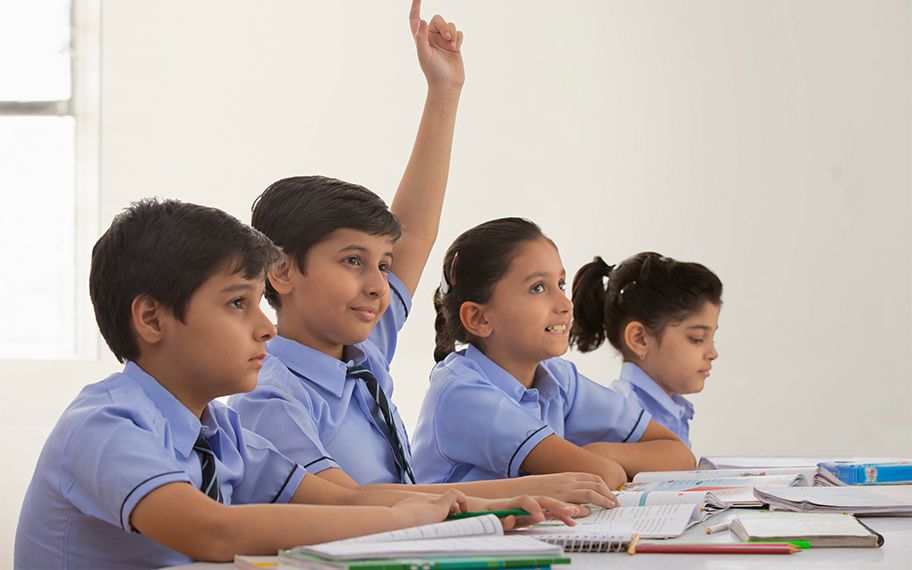 Amazing Features of Teachmint's Admission Management System
We all know that Admissions requires a lot of paperwork, from inbound marketing to document collection, shortlisting, and admissions. Parents and school staff all became tired while managing all the admission procedures. Admission management solutions such as applicant and self-serve sites can simplify the application process.
Therefore, after learning about what is admission management system let's check out some amazing features of Teachmint's module for effective  admission management:
Speedy Collection of Documents
It is easy for the administrators to gather all the necessary paperwork from students using a well-defined and digitalised system for admission management. Students can easily upload their relevant data using the dashboard when the school admins provide them with access. Additionally, the system has no restrictions on managing applicants. It is scalable and can facilitate infinite users, courses, and programs the university or school offers.
One of the outshining features of Teachmint's design for admission management is that you can get all the information in one place without maintaining a tonne of files.
Swift Accumulation of Student Data
No longer are oral suggestions and traditional advertising the only sources of school inquiries. The use of websites, offline marketing, publisher integrations, social media, and other channels can all be utilized to generate learner leads. However, schools can gather all leads without being ignorant of any prospect with the assistance of a digitalised system for admissions.
Today, institutions can benefit from speedy data collection and processing thanks to efficient softwares created for the admission process management. School admins are no longer required to ask every student individually for information. They can enhance the process of gathering data by using these automated systems.
Insightful Monitoring of Application Status
We all know about the admission application form sections, which are challenging to complete. It is one of the major reasons students leave the website before completing so much information, and schools miss the lead. In today's digital era, it is very important to have a simple process for admission.
When the school starts installing the software, students can track their online applications and get updates about their fee payments, the documents they missed uploading or any other pending verifications. Additionally, they can easily upload all their documents while sitting at home. Students and parents can easily check the status of these activities with the help of admission software management.
Automated Selection Process
All management staff can easily connect via the software's dashboard and share their inquiries. School management easily processes the admission procedure to the various departments without moving physically. Therefore, schools can use the admission management tools such as softwares and applications to streamline the entire process and make it faster than the manual admission process.
Effortless Admission Procedure
Schools can speed up their admission process with the help of a software created to effectively manage their admission process. Hunting for the right documents, sorting them as per requirements, scanning through the details, verifying information, and the list continues. So much documentation is required when we are processing the admission procedure, and it takes a lot of time and energy.
But, in today's technology world, we can go with amazing software and get everything done systematically in a time-saving way. Working with the software leads to less human error in the documents.
Customized Admissions Forms
Using the software for admission process, education institutes and schools can easily customize their forms according to their needs. They don't need to depend on the outside party to change the forms. If the previously studied subjects are important criteria for admission to your school, add them to the form. If there is any detail on the form template that isn't really necessary, you can do away with it.
Moreover, installing an advanced technology that facilitates the admissions process enhances staff and students' overall experience in their schools.
On-Time SMS Updates
One of the most amazing features is SMS updates. Yes, this will help the parents and teachers with the updates on their applications. Parents can receive all the updates regularly via sms about the fee payment and document updation.
After learning about their amazing features, you will now understand what is admission management system and why schools need it.
Benefits of Admission Management System
This system helps the staff to get all the information easily in the database. There is no need to update the extensive registers and maintain Excel spreadsheets. This software is cost-effective, time-saving, and power-saving, making the admission procedure smooth.
Schools and educational institutions can greatly benefit from the this setup for admission management. Let's discuss some amazing benefits of the same:
Centralized and Uniform Admissions
There are branches of numerous educational institutions spread out in various places. It complicates the admission process when they manually manage all records.
Compiling, reviewing, and narrowing down the application forms is also difficult. Students and school administrators can instantly access the centralized platform of the admission management software from any location.
Since the online application process is well-connected, recovering and submitting information between different school branches is easier. Furthermore, these platforms facilitate information sharing, data storage, and documentation.
Monitor Application Status
As you are aware, the admissions process entails several steps, and schools can only finish some of them at a time. Through the streamlined system for admissions, students can submit their applications, pay the application fees, and track the status of their submissions. Students will be able to follow their application's exact status. They can scan their documents using the software, then upload them.
Sometimes it might require a bit more time to finish the admissions process. In that case, this feature will allow parents to resume the process whenever they want in the future.
Parents can easily monitor the status of their admission application. They can check the updates also via SMS. Management staff can also monitor the admission form, and they can easily follow up with their primary leads rather than registering and writing them down.
Accurate Admission Procedures
Manual processes have room for several errors, and the results could be more desired. It is, therefore, imperative to digitize entire processes in order to increase efficiency.
Manually operated admissions processes are subject to mistakes. When recording student information, school staff members who are involved in admissions may make mistakes. However, schools can avoid such errors by implementing a software for managing their admissions. This software streamlines and improves online admission. It also reduces the workload for teachers. Thus, it uplifts the overall tasks of the school, wherein optimal accuracy is maintained, and fewer people are employed in redundant tasks.

Data Storage and Management
We all know that during the admission procedure, school staff needs to manage tons of data, which is completely challenging for all. Several files also need a massive space, which is another major issue. Similarly, when the school goes with the admission management, they will get a space-saving environment. Moreover, they can manage all their data on a completely secure dashboard.
Therefore, storing all the important data physically in a place leads to the risk of data theft. So, working smartly and saving time, energy, and place is better. Also, schools can provide the best services to parents. It is among its best benefits if you are wondering what is admission management system is and how it helps schools.
Easier Billing, Payments, and Invoices
Most parents only have time to wait in line as they work and rush to the office. So, this software is one of the time-saving for them. As a result of various payment gateways, parents can now pay the admission fee conveniently. Additionally, it helps get the invoice faster rather than waiting in line. Working parents can save time while moving with the easy digital system.
Therefore, admission management software works for schools and helps parents make their child's admission process easy in many ways.
Accuracy of Work
Consider a school that receives a huge number of applications each day. Managing it all will be a challenging, time-consuming task with a high likelihood of mistakes. A flawless and more accurate admissions process is offered online. Since a majority of processes are automatic, they guarantee less human intervention. The dashboard allows school administrators to monitor the admissions process as a whole. All they have to do is give their approval for each step before adjusting the workflow.

Zero Paperwork
Applying for admission offline takes a long time and requires a lot of paperwork. Numerous applications must be printed and stored, which is expensive for schools. Furthermore, students will need a long time to process and complete these applications manually. A mistake here and there and you require a fresh copy. Teachmint's software enables parents to go smoothly through the admission process.
Now parents can fill in all the relevant information digitally without taking out printed application forms. A typing mistake requires just your backspace and delete options. Using an online admissions system addresses all concerns. It offers a quick and easy admissions process that requires no paperwork.
Cost-effectiveness
Schools can cut costs on admission office infrastructure and advertising by using an online system for managing student admissions. Schools do not need specialized staff members for each procedure because the system manages all operations. Additionally, schools can save money on handling countless applications. Managing the online admission process is more cost-effective than planning a complete offline one. Schools can make significant time and money savings this way.
Therefore, schools and parents have a cost-effective process because they do not need to print the forms and visit the schools physically. This software works like magic for working parents who would require time off from work to visit schools for admission formalities. With Teachmint, they can just login into the portal, access the dashboard and fill in all the details for the admission process. Parents can also pay the admission fee via this software and save on commute expenses. Thus, using this software for the admission of their child is one of the best ways for parents to save time and money.
User-friendly and Error-free
Easy-to-use software is preferable to complicated software with many features. Therefore, software that is simple to use and understand can be an asset to an organization. The system's user can use it effectively due to its simple but appealing user interface, clear information extraction, and well-built database.
There are several drawbacks to the traditional admission management strategy that could make it more reliable and effective. Since this system reduces the need for human involvement, it generates more accurate data with fewer errors.
Attractive Marketing for Admissions
All schools and institutional centers are looking forward to attracting more leads for admission, and while using the digital setup for admissions, you can automatically get good market action. They need to advertise their institutions to succeed. The most recent campus activities can be updated in a database of potential applicants created by admissions management software. Students can learn about training, seminars, and other events through online admission software.
There are many amazing benefits of admission management software. It enables educational institutions to efficiently manage their student admission process in real-time rather than being complicated by numerous calls, discussions, back-and-forth emails, and follow-ups. Using the proper college software can benefit both the admissions team and the applicants.
Software for admission management can streamline the admissions process. After the online admissions system is installed, schools and other academic institutions will gain more insight into how to use it.
How Does Teachmint Help Schools in Overall Management?
School management is an amalgamation of numerous complicated tasks, but nowadays, technology has brought major changes that will make things easy.
Yes, Teachmint brings your school amazing school management software with an attendance management system, admission management system, exam management, fee management, and many more. You name it, and Teachmint provides it!
Teachmint is one of the leading providers of education-infrastructure solutions, strengthening the education system. Schools have shifted to digital automation, owing to the useful software for school management. This software will make work easier for the administrators and teachers to maintain all the records and keep tabs on their learners. All these systems will help schools in their management and enhance their productivity by streamlining the procedure.
School management system not only makes these easy for teachers but also improves communication and teamwork. Parents can access this software and easily receive all the updates, view their child's performance, and get news related to the school. Moreover, students can utilize the study resources available on the portal, connect with teachers and peers, and uplevel their preparation.
To Sum Up
Schools using the new approaches to admission management will make their admission period easy, and they can easily manage all digital tasks. It can be the best way to attract leads in marketing. It is truly a blessing for parents as they can easily get admission for their children owing to the streamlined process.
The digital world is changing, and everyone needs technology. Parents are attracted to the advance and time-saving management with quicker procedures for admissions. It leads schools to convert good numbers of leads and attain a higher admission rate.
Still, thinking? Get an admission management system for your institute and become future-ready with Teachmint's cutting-edge technology and accelerated workflow!
Learn more about Teachmint plans here.
To stay updated follow Teachmint News