In today's world, digital learning has become an indispensable component of education, thanks to the continuous advancement of technology. One of the most significant technological innovations that have revolutionized education is the Learning Management System (LMS). An LMS is a software application that facilitates the creation, delivery, and management of educational content and courses online. It offers a comprehensive platform that enables educators to deliver and manage learning materials effectively while providing students with a flexible and personalized learning experience. However, before we take the initiative to understand what LMS is, it is first important to define what a learning management system is and outline its effectiveness in the current market.
What is LMS (Learning Management System)
In simple terms a learning management system or LMS can be best defined as a software application that is completely dedicated towards helping planning, implementing and assessment of a specific learning process. In most cases implementation of the software is carried out through its LMS portals, whey both the teachers and students are provided with adequate support to manage everyday learning outcomes.
In the case of the educational sector, the learning management system can be defined as an adaptable online education "hub" or environment that is mostly associated with providing a large and several important features that are often indispensable. Through these features it becomes possible to support teaching and learning activities for schools and improve the quality of education.
It is important to address that the entire management is mostly conducted through the help of LMS portal, allowing for the presence of a central system making it easy to have access to information. It is the reason why the LMS system is often called a direct reflection of e-learning. It is important for education institutes to consider the implementation of this technology because it helps in developing a consistent learning environment mostly developed through centralized content.
What is the effectiveness of using an LMS Software
Automation today has become an important requirement because it provides administrators with the benefit of having access to information easily and also the simplification of several complicated processes. Considering the case of the school learning management system, one of the major advantages that it provides is that it manages automation easily. This means that through the help of automating processes it becomes possible to keep the educational content stored centrally and be distributed anywhere when required.
It is also important to note that the fact that it becomes possible to complete several courses at the same time is also considered one of the major effectiveness associated with the use of  LMS. it also lost the teachers to have complete control about what kind of courses they are implementing and when they are providing assignments to the students. Each of these factors contribute towards highlighting how through the use of this software schools can better manage their everyday activities.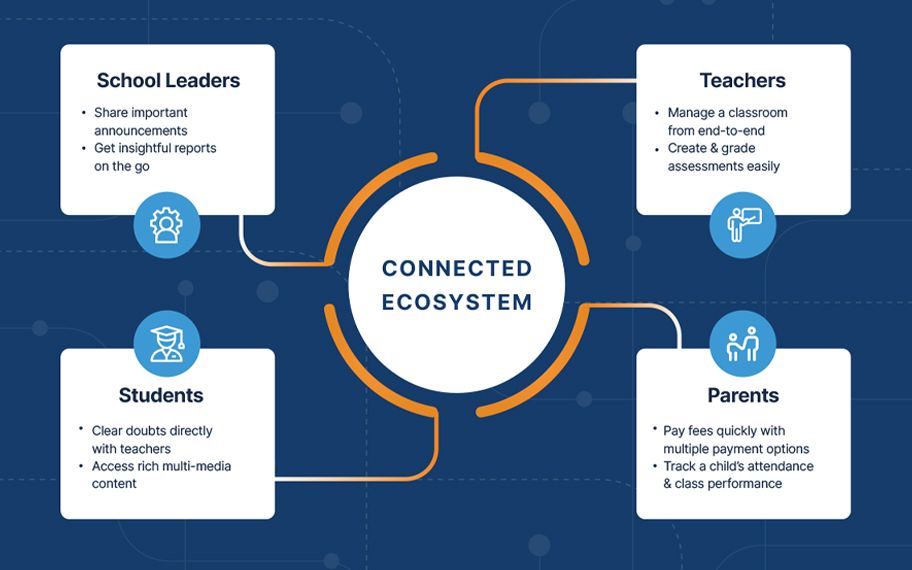 Understanding the Purpose of LMS
An LMS is a software application that provides a platform for educators and schools to deliver educational content, organize study materials, and track student progress. Learners can access learning materials, complete assessments, and interact with instructors and fellow students.
Teachmint's School LMS includes features like student tracking and progress report generation, communication tools, and assessment tools. In addition, since the LMS is part of the larger Integrated School Platform, it also provides advantages such as classroom management, gamification tools, analytics and reporting, etc. which will be discussed moving forward.
It is also important to highlight that the purpose of LMS is also associated with hosting and tracking the e-learning of the students. Through the virtual hub that it provides it becomes possible for e-learn as to have access to different training resources making it possible for them to complete their assignments within deadline.
One of the reasons that can be highlighted regarding why training resources are easily made available through the School learning management System is that the objective remains to make training accessible to remote learners and to individuals who somehow miss out on school. At the same time it also provides the organization with the central location to store all the training resources making it easily accessible.
As a result, the purpose of LMS is not just associated with optimizing and ensuring the learning process but also managing and supporting efficient learning for both the teachers and the students. Through this system it becomes possible to create ease of learning for the learners and allows the teachers to experiment with different learning techniques to maintain engagement of the students.
Why Use an LMS?
It is evident from the above analysis that there are several reasons that can be highlighted as to why using an LMS is beneficial for schools and colleges and any other higher education institution. This is because a School LMS offers many benefits for educators, learners, and schools. Here are some of the key benefits:
For Teachers:
Provides a platform for organizing study materials
Streamlines the delivery & tracking of assessments
Offers a centralized system for communication and collaboration with learners
Provides tools for tracking learner progress and performance
Facilitates customization of learning materials to meet the unique needs of learners
For Learners:
Provides a flexible and personalized learning experience.
Enables access to learning materials anytime, anywhere.
Allows learners to track their progress and performance.
Provides opportunities for collaboration with peers and instructors.
For The Administrators
Enables tracking of student academic progress
Facilitates student attendance tracking with detailed analytics
Helps make classroom management easier
For Parents
Helps parents stay on track with their child's academic progress & attendance
Ensures the security of information for them and their children
Enables parents to communicate with school authorities easily, ensuring transparency
Key Features of an LMS
An LMS is a powerful tool for delivering and managing education, and it comes with several key features essential to the purpose of LMS. Here are some of the essential features of an LMS:
Student Performance Report Generation
An LMS should provide features enabling teachers to monitor student progress and performance, including tracking attendance, participation, and grades. Teachmint makes it easier for teachers to assess student performance by automating the process of test creation, and assessment evaluation, and providing them with detailed performance management tools that allow them to see how the class as a whole is performing.
The reason why performance management is provided with more importance is because it helps in outlining how education has been contributing towards the growth of the student. It contributes towards helping provide more clarity to the thoughts of the students and allows them to grow that thought into something meaningful. Each of these aspects can only be possible when there is a positive learning environment present which can be achieved through the implementation of LMS.
Read: The Link Between Student Tracking System and Performance
Communication Tools
An LMS should provide features enabling communication and collaboration between educators and learners, including features for online discussions, announcements, and private messaging. Teachers will be able to post on the class notice board, which will be visible to both parents and students. It can contain information about deadlines for homework, test dates, etc. The Private Chat feature also allows students to contact teachers after school hours to clear doubts and enables teachers & parents to keep in touch.
Communication provides both the teachers and the students with the channel through which they can easily understand where the problem is present. Through communication it becomes possible for the student to easily ask questions and clarify doubts, allowing them to become more confident about their preparation. At the same time for the Teachers it makes it easier for them to understand what areas are affecting the child and causing them problems to manage the learning. through the presence of communication tools at LMS, each of these factors become more manageable.
Assessment and Analytics Tools
Assessment of the students is considered to be a major requirement in schools and colleges because it allows the teacher to understand how much the student has learnt over the course period. The assessment can be carried out through the help of various activities like assignments, projects or even quizzes. One of the reasons why LMS is considered to be an important tool is because it contains all of these above features that the teachers can easily implement.
An LMS should provide features for administering assessments and quizzes, including ones for automatically grading assessments and providing feedback to learners. The most common ways for assessing students are through tests and homework. Teachers can organize and conduct tests quite easily on Teachmint, thanks to its extensive array of 20 lakh+ preloaded questions. The same set of questions are used to create homework, which can be optimized according to the class in which the students are studying. Students can also learn at their own pace with Practice Questions.
Gamification
Teachmint allows gamification of education through different means:

With the help of scorestreaks, students are incentivized to use practice questions to maintain it on a daily basis.
Teachers can setup surprise tests to make students compete with one another
Teachers can give behaviour badges to encourage and dissuade students certain types of behaviour and keep them on track.

Benefits of Bringing Gamification Into Your Classroom | Teachmint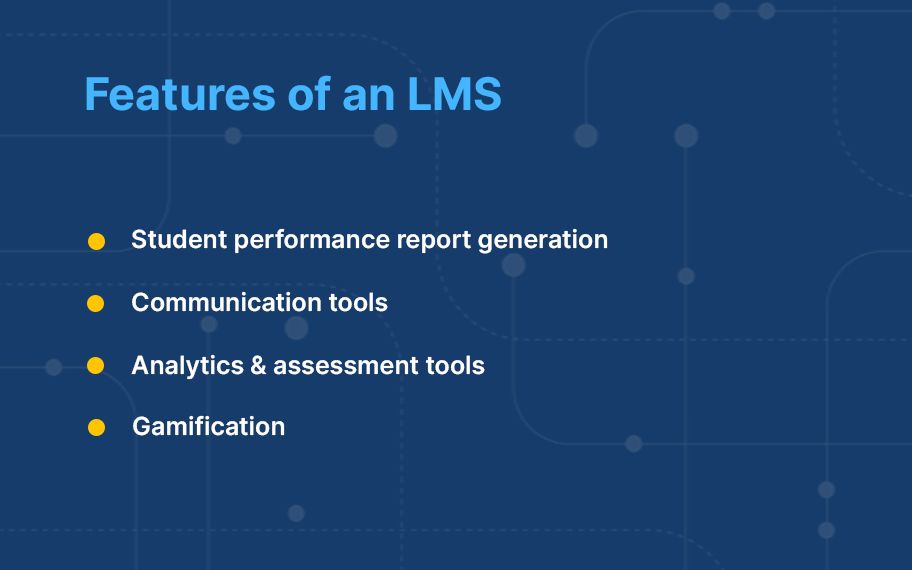 Achieving NEP 2020 Goals
The National Education Policy 2020 is a comprehensive policy framework aimed at transforming the Indian education system to meet the demands of the 21st century. It envisions using technology to enable equitable access to education and improve the quality of learning outcomes. An LMS can be a valuable tool in achieving the goals of the NEP 2020. Here are some ways an LMS can support the implementation of this policy:
The National Education Policy 2020 emphasizes the need for competency-based learning, which focuses on developing skills and competencies rather than rote memorization. An LMS can support competency-based learning by providing learners with access to real-world learning experiences, competency-based assessments, and feedback on their progress.
By leveraging the power of technology and using an LMS, schools can progress towards achieving the goals of the NEP 2020. An LMS can create a more inclusive, equitable, and personalized learning environment and give learners access to high-quality education regardless of location or socioeconomic status.
The goal of modern India is to provide high quality education to its students so that they can help build a brighter future. At a time when technology is contributing towards providing more support to student learning, the New education policy has been a boon for the education sector in India.
Use of the school learning management system will allow the schools to easily transform itself and become a part of digital India. At the same time it will also progress towards ensuring that students are provided with the best of both worlds including both online and offline learning. At the same time, considering the fact that digital transformation can contribute towards developing a more Holistic approach towards management, the LMS will contribute towards easily achieving that objective.
Read More - NEP 2020 | National Education Policy 2020
Conclusion
The purpose of LMS is to provide a centralized platform for educators and learners to manage and access learning materials, communicate, collaborate, and track progress. Schools can improve the quality of teaching and learning, increase student engagement, and support personalized learning. Teachmint is an integrated school platform that has already integrated many key elements of the National Education Policy 2020. It allows teachers to manage the classroom, provide study materials at the right time and track student progress effectively. Seamlessly integrate technology into the classroom and take education to the next level with Teachmint. The goal of Teachmint has always been to provide the best education for its students and using the LMS software developed by TeachmInt it will be possible to achieve that objective.
Frequently Asked Questions
1. How do I choose the right LMS for my needs?
Consider factors such as the school's specific goals, budget, size of the school, the number of users, etc. Teachmint's LMS being integrated with a school ERP and digital content platform makes it the perfect platform for schools to manage their everyday needs.
2. How can an LMS improve teaching and learning?
Teachmint's school LMS provides tools to create engaging learning experiences, helps learners access content provided by Teachmint as well as the teacher, and provides a structured approach to learning that ensures learners meet learning objectives.
3. How important is accessbility in education & how does LMS help?
Accessibility is crucial in education, as it ensures that all learners can access and interact with study materials, regardless of their physical or cognitive abilities. Teachmint makes study materials accessible to all students, while also making it easier for teachers to share them.
4. Can I integrate my LMS with other systems and tools?
Yes, Teachmint allows integration with other systems and tools, such as student information systems, content management systems, and assessment tools. This can help streamline the learning process and make it more efficient.
5. How much does an LMS cost?
Teachmint offers three plans depending on the number of users, the features included, and so on. Visit the website to see our plans.
6. What kind of support is available for LMS users?
Teachmint offers users a range of support options, including online documentation, video tutorials, phone and email support, and user forums.
7. Is it necessary to have technical skills to use an LMS?
Teachmint is designed to be user-friendly and requires little to no technical expertise. Basic computer literacy is all you will need to navigate yourself through the platform.

Future Ready Schooling | School Management Made Easy with School Management System
Learn more about Teachmint plans here.