Introduction
It is interesting that nothing much changes on a daily basis, however, when one looks back, everything is different. From blackboards to digital boards, we have certainly come a long way. The world is undergoing rapid changes in the knowledge landscape. There has been a gradual shift from heavy reliance on content to 'learning how to learn'. It is pivotal to address these changes and cater to the future. National Education Policy 2020 (NEP 2020) envisions redefining the education system. NEP 2020 is in place to try and ensure that everyone has equal access to quality education. It will also make sure that the education system is rooted in the Indian ethos.
In the next decade, India will have the highest population of young people. The opportunities and chances that they get have the potential to govern and direct the future of our nation. Hence, it is pivotal to ensure that all the gaps in the system are bridged. NEP 2020 proposes various promising notions. This blog will throw light on NEP 2020, the foundation of the policy, the NEP 2020 pattern, its evolution, major takeaways, and what the education ecosystem can expect. Without further ado, let us take a look at National Education Policy NEP 2020 in detail.
As mentioned earlier, India's young population is an asset for the country and will be its largest advantage in overcoming future problems. Through actions like establishing better standards for schools and colleges as well as continuous and standardized assessment tools, NEP 2020 aims to strengthen elementary education, improve secondary and tertiary education, develop skills among youth, and enable effective tracking of learning outcomes. In short, the NEP 2020 emphasizes the holistic development of students in academic and non-academic areas.
The world changes constantly, and with it changes our perspective, challenges and conveniences. As part of the educational revolution, we have seen great dynamism due to the introduction of AI and online learning platforms. However, for students to rightly use these, they must be aware and equipped with learning materials. Such development must be guided, NEP 2020 is one such innovative policy that guides holistic development among students.
1. What is NEP 2020?
The National Policy on Education was framed in 1986. The policy underwent revisions in 1992. Since then, a number of adjustments have been made, necessitating a revision of the Policy.
The National Policy on Education (NPE), 1986, which had been in place for 34 years, was replaced with the NEP 2020, the first education policy of the twenty-first century. This policy, which is based on the fundamental pillars of Access, Equity, Quality, Affordability, and Accountability, is in line with the 2030 Agenda for Sustainable Development and seeks to transform India into a thriving knowledge society and a global knowledge superpower. By enhancing both school and college education and making it more holistic, flexible, multidisciplinary, and appropriate for the needs of the 21st century, NEP is focused on bringing out each student's individual talents. We will discuss the evolution of NEP towards the end of the article.
The National Policy on Education was formed in 1986 and finally realised in 1992. A couple of years ago the National Education Policy 2020 came as a revised version of updated education policies as per 21st century standards of learning. NEP 2020 especially focuses on Access, Equity, Quality, Affordability, and Accountability. It encourages inclusive learning for all, in both academic and creative areas. Students from all over India can easily access the guidelines and courses available to upskill themselves and contribute to national development. It aligns perfectly with the UN's Sustainable Development Goals that aim at improving learning accessibility for all, believing that children have the right to education.
The National Education Policy (NEP 2020) also aspires to offer students across the nation an equitable and inclusive learning environment. It focuses on making education accessible to everyone and elevating Socially and Economically Disadvantaged Groups (SEDGs). The new education policy that has been established in the Indian educational system emphasizes the importance of pedagogical approaches that foster students' overall development through hands-on learning.
The fundamental goal of NEP is to incorporate a competence-based learning method where students are mentored to effectively develop their skills and talent. The NEP 2020 is in accordance with the UN's fourth Sustainable Goal which focuses on making education accessible to every child.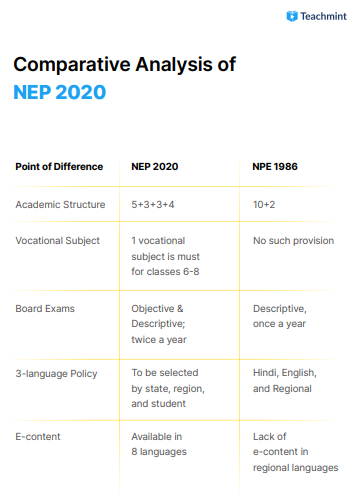 2. Fundamental Principles of NEP that Educational Institutions Must Know
What is the NEP 2020 pattern? NEP 2020 puts forth that a good education system should make every student feel welcome. It must be able to create a safe space for all the learners to explore and express themselves. From creative imagination to empathy to scientific spirit, all the aspects must be addressed and respected.
The fundamental principles of NEP are as follows:
Recognizing, identifying, and fostering the unique capabilities of each student
Every student is different. Be it their learning styles or interests or competence. Teachers as well as parents must be sensitized to understand the unique capabilities of students and acknowledge the same. This will make more room for growth and will instill more confidence in students.

Achieving foundational literacy and numeracy
Foundational literacy and numeracy (FLN) can be defined as a child's ability to read basic texts and solve basic Maths problems. Ensuring that students have the necessary understanding of words and numbers by the time they reach third grade, is one of the most important principles of NEP 2020.
Each child's inclination varies. Some students might be interested in Maths, some others might be interested in Sports and certain others in Arts. The flexibility to choose the career trajectory that the students want, as per their interests, is one of the fundamental principles of NEP 2020.
Intentionally or unintentionally, more often than not, people tend to place more importance on curricular activities than extracurricular activities and the same happens with Science and Arts. The former usually gets more emphasis. The National Education Policy highlights that there shouldn't be a hard separation between these. All subjects and activities should receive equal and undivided attention.
Multidisciplinarity & holistic education
"Ensuring Unity and integrity of all knowledge", is one of the most important notions put forward by NEP 2020. Through multidisciplinarity, students will be able to gain a wide variety of skills that are necessary to succeed in life. Education is not just about textbook knowledge and NEP 2020 ensures to constrain this issue which has been prevalent in our education system for a very long time.

Emphasis on conceptual understanding
Memorizing for exams and forgetting the mugged-up concepts soon after has become a pattern. NEP 2020 tries to curb this by emphasizing a better comprehension of the concepts as opposed to cramming.

Creativity and critical thinking
NEP 2020 promotes logical thinking and innovation. A close observation of the principles will help one understand that they all go hand in hand. Fostering the unique capabilities of students, teachers and parents will help catalyze independent thinking and innovation.

Ethics and human & constitutional values
Another fundamental principle that will guide the educational systems at large is values like empathy, respect for others, cleanliness, courtesy, democratic spirit, the spirit of service, respect for public property, scientific temper, liberty, responsibility, pluralism, equality, and justice.
Promoting multilingualism and the power of language
India is a land of thousands of diversities and to acknowledge the same, educational institutions must promote multilingualism in teaching and learning.

Life skills are necessary abilities that enable individuals to deal with the challenges of life. Communication, resilience, problem-solving, perseverance, etc. are some important life skills. Learn more here.

Focus on regular formative assessment for learning
Formative assessments are used to identify students' strengths and weaknesses, address students' areas of need, and the like. It helps assist teachers in recognizing gaps in knowledge and functioning to close those gaps.
Extensive use of technology
With the rapid development of technology, there are a lot more possibilities for better teaching and learning. NEP 2020 promotes the use of technology since it can help transcend various barriers, and make management better &more efficient.

Respect for diversity & respect for the local context
Education is concurrent and it is of paramount importance to respect diversity and place emphasis on the local context. The textbooks must capture the cultural nuances and draw examples from life that the students will be able to connect with. This will ensure better comprehension and understanding.
Full equity and inclusion
Equity and inclusion must be at the heart of all educational institutions so that no student feels left out. Regardless of socioeconomic status and other markers, every child must have access to quality education, this policy asserts that bridging the social category gaps in access, participation, and learning outcomes in school education will continue to be one of the major goals of all education sector development programs.
Synergy in curriculum across all levels of education
A combined effort to ensure better, high-quality education. From early- childhood education to higher education, the curriculum must be designed in a rhythmic way. The students must be introduced to concepts properly and guided with utmost precision.
Teachers and faculty are at the heart of the learning process
From recruitment to professional development to service conditions, the overall well-being of teachers will be given due importance.
'Light but Tight' regulatory framework to ensure integrity, transparency, and resource efficiency
The policy will ensure that integrity, transparency, and resource efficiency are in place. It will help ensure that the quality is not compromised and that every stakeholder has access to the necessary information.
Quality education doesn't come easy. NEP 2020 says that extensive research must be conducted to ensure that the standards are high.
There can't be growth and development without review and feedback. Continuous and consistent reviews of progress will be able to throw light on what is working and what is not.
A rootedness and pride in India
Another important principle of NEP 2020, that educational institutions must keep in mind is ensuring that the rich and diverse culture of India, is communicated and that the traditions and ancient history are preserved.
• Education is a public service
Education is not business. It is a necessity, and every individual should have access to quality education. It is to be considered the basic right of every child.
Substantial investment in a strong, vibrant public education system
The promotion and support of genuine charitable and community involvement is another fundamental principle of the National Education Policy, 2020, that will help guide the institutions better.
Now that we have discussed the fundamental principles of NEP 2020, let us take a look at what NEP 2020 means for teachers.
NEP 2020 has a few fundamental principles.

Recognising and encouraging the unique capabilities of each student, Achieving excellence in both literacy and numeracy,
Flexibility in making career choices,
Promoting multidisciplinarity and holistic mearning methodologies, Imparting conceptual understanding over rote memorization,
Drawing out creativity and critical thinking,
Teaching ethics and human values,
Promoting multilingualism,
Developing life skills

These principles aim to create an inclusive and high-quality education system. If followed carefully, students can improve their learning quality to have a better standard of living.
3. NEP 2020- Everything that Teachers Should Know
Teachers are at the heart of the education ecosystem. They can never be replaced from the equation.  NEP 2020 is of the notion that the quality of teacher education, recruitment, deployment, service conditions, and empowerment of teachers is not at the desired standard. The heightened respect for teachers and the high status of the teaching profession must be restored so as to motivate the most promising individuals to enter the teaching profession. NEP 2020 puts forth a number of points to ensure that there is sound professional development for teachers and that the working conditions are up to the mark. Let us take a look at what NEP 2020 means for teachers:
Numerous merit-based scholarships for quality 4-year integrated B.Ed. programs shall be established around the nation in order to ensure that the best students, particularly those from rural areas, enter the teaching profession.

Incentives will be provided for teachers to take up teaching jobs in rural areas.

There will be an end to the frequent teacher transfers so that students have consistency in their role models and learning environments. Transfers will only take place in extremely unique circumstances that have been properly outlined in an organized manner by State/UT governments. Furthermore, a computerized online mechanism that guarantees transparency will be used for transfers. Read more here.

Teacher Eligibility Tests (TETs) will be strengthened in order to incorporate better test material in terms of both content and pedagogy. The TETs will also be expanded to include teachers at all levels of schooling (Foundational, Preparatory, Middle, and Secondary).
The appropriate TET or NTA test results in the relevant disciplines will also be taken into consideration when hiring subject teachers. In addition to this, the hiring process for teachers at schools and educational institutions will increasingly include a classroom demonstration or interview to determine candidates' enthusiasm and desire for teaching. This will also help to ensure that the candidate has more than textbook knowledge and has an idea about classroom management, teaching strategies, and the like.
In order to ensure that every school or educational complex has at least some instructors who can communicate with students in the local language and other widely used regional languages, these interviews would also be used to gauge comfort and proficiency in teaching in the local language.

An adequate number of teachers across disciplines will be ensured by enabling the option of sharing teachers (in accordance with the grouping of schools adopted by State/UT governments)

To benefit students and preserve and promote local knowledge and professions, schools/school complexes will be encouraged to hire local, eminent individuals or experts as "master instructors" in a variety of subjects, such as traditional local arts, vocational crafts, entrepreneurship, agriculture, or any other subject where local expertise exists.

To ensure that teachers and students, including children of all genders and children with disabilities, receive a safe, inclusive, and effective learning environment,  adequate and safe infrastructure will be ensured. This includes functional restrooms, clean drinking water, clean and attractive spaces, electricity, computing devices, internet, libraries, and sports and recreational resources, etc. To make sure that all teachers are aware of these standards, in-service training will include input on workplace safety, health, and the environment.
Teachers play a central role in the education ecosystem, and NEP 2020 recognizes this. It calls for improvements in teacher education, recruitment, deployment, and working conditions. The policy introduces merit-based scholarships for quality B.Ed. programs, incentives for teaching in rural areas, and reduced teacher transfers for consistency in learning environments. Teacher Eligibility Tests (TETs) can be structurally understood and cracked now, and interviews serve as a great judge of practical skills. Schools can also hire local experts as "master instructors" to preserve local knowledge. National Educational Policy 2020 prioritizes safe and inclusive learning environments for all teachers and students. After all, the future of the nation relies on them.
3.1 Continuous Professional Development
Continuous upskilling and knowledge upgradation are pivotal to ensure that the standards are met. As mentioned earlier, the world is changing at a rapid pace and constant upgradation is required to guarantee that students have access to the best resources possible. Teachers need to understand the changing technology and patterns to be able to cater to the students efficiently. CPD or Continuous Professional Development is in place to address these. Teachers will be given continuous opportunities for self-improvement and to learn the latest innovations and advances in their profession.
Workshops will be conducted at local, regional, state, national, and international levels to help teachers upskill themselves and be informed about the latest developments and trends in the industry.
To ensure the professional development of teachers, they are expected to participate in at least 50 hours of CPD opportunities every year.
The CPD programs will also cover the following
The latest pedagogies regarding foundational literacy and numeracy
Similar modular leadership or management workshops, online learning opportunities, and platforms will be available to school principals and leaders of school complexes so they can continue to hone their own leadership and management abilities and exchange best practices with one another. They will also be guided on pedagogies and other teaching methods so that they can implement the best strategies at their institutes.
3.2 Career Management and Progression (CMP)
Redundancy and lack of recognition can make people leave a job. Due recognition and rewards must be given to deserving teachers. A merit-based structure must be in place to ensure that efforts do not go unnoticed.
The State/UT Governments shall design a system of varied criteria for accurate performance evaluation based on peer reviews, attendance, dedication, hours of CPD, and other kinds of service to the school and community.
There won't be any career advancement-related incentives for teachers to switch from teaching in early stages to later stages or vice versa. Instead, career growth for teachers will be available inside a single school stage (i.e., foundational, preparatory, middle, or secondary). This is to make sure that no stage of education will be given greater weight than any other and that all levels will necessitate the best teachers. For example, if a teacher is teaching primary classes, their promotion would not mean that they can teach high school or higher secondary, instead, they would be promoted at the same stage, to a higher position with a similar pay scale. As mentioned above, this will help to ensure that teachers across all levels are considered equally important.
Deserving teachers will also be promoted vertically and will be encouraged to take on leadership positions. Proper training and workshops will be conducted for the same.
National Professional Standards for Teachers (NPST), will be in place by the National Council for Teacher Education.
3.3 Approach to Teacher Education- An Overview

As discussed under CPD, continuous upskilling and professional development of teachers is a prerequisite to ensuring quality education.
By 2030, teacher education will gradually evolve into multidisciplinary colleges and universities as teachers would need guidance in both pedagogy and high-quality content. All colleges and universities will strive to host exceptional education departments that provide B.Ed., M.Ed., and Ph.D. degrees in education as they all advance toward being interdisciplinary.
By 2030, the minimum degree qualification for teaching will be a 4-year integrated B.Ed. degree. The course will cover a wide variety of concepts that will help to ensure maximum teacher efficiency.
The 2-year B.ed Degree will continue. Individuals who have already completed other degree courses can opt for the 2-year course. For example, if someone has done a bachelor's in English literature, they can take the 2-year B.ed course to become an English teacher (they will have to clear the necessary mandates put in place by the institution that they are applying to)
All the B.Ed. programs will include training techniques that will help teachers cater to the requirements and needs of the students better. Foundational literacy and numeracy, multi-level teaching and evaluation, special education, accessibility for Divyang students, etc. would get focus and emphasis.
The idea is to develop highly efficient and qualified teachers across all the stages to ensure a high standard of education and all the efforts are directed towards the same.
In order to fully restore the integrity of the teacher education system, stringent action will be taken against substandard stand-alone Teacher Education Institutions (TEIs) running in the country, including shutting them down, if required.
4. NEP 2020 and Higher Education
The role that higher education plays in societal development cannot be overstated. NEP 2020 points out that there are several hiccups and always in the current higher education system, like the lack of focus on cognitive skills, fragmentation, limited access, lack of autonomy for teachers and institutes, less emphasis on research, and the like.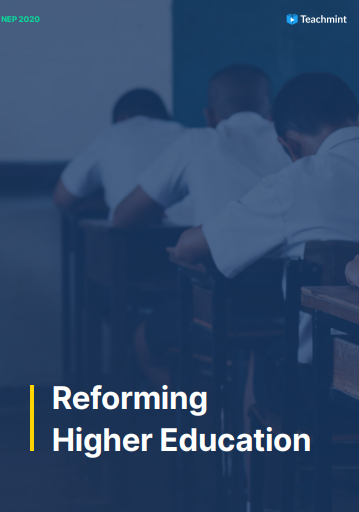 The National Education Policy 2020 envisions reenergizing the higher education system. As a part of this attempt, the policy will bring in the following changes:
Better faculty and institutional autonomy
Merit-based appointments in the leadership positions of higher education institutions to ensure efficiency
Establishment of a National Research Foundation to fund and encourage research
A revamp of the existing curriculum to address and bridge the gaps
Fostering large, multidisciplinary colleges and ensuring at least one in or near every district: below is an excerpt from NEP 2020.
"The main thrust of this policy regarding higher education is to end the fragmentation of higher education by transforming higher education institutions into large multidisciplinary universities, colleges, and HEI clusters/Knowledge Hubs, each of which will aim to have 3,000 or more students. This would help build vibrant communities of scholars and peers, break down harmful silos, enable students to become well-rounded across disciplines including artistic, creative, and analytic subjects as well as sports, develop active research communities across disciplines including cross-disciplinary research, and increase resource efficiency, both material and human, across higher education." Source- NEP 2020, official document
The NEP 2020 also highlights that it will revise the Choice Based Credit System (CBCS) to ensure better innovation and flexibility.  
The policy also places focus on:
Better student activity and participation
Motivated and capable faculty
Equity and inclusion
Curbing the commercialization of education
Promotion of Indian languages, arts, and culture
Online and Digital Education: Ensuring Equitable Use of Technology among others
Let us take a look at Online and Digital Education: Ensuring Equitable Use of Technology, in detail.
5. Online and Digital Education: Ensuring Equitable Use of Technology
The pandemic brought the entire world to a standstill. Life as we know it came to a halt and NEP 2020 acknowledges the importance of technology and digitization. NEP 2020 emphasizes the importance of digital infrastructure. The excerpt from the policy goes like this:
"There is a need to invest in the creation of open, interoperable, evolvable, public digital infrastructure in the education sector that can be used by multiple platforms and point solutions, to solve for India's scale, diversity, complexity, and device penetration. This will ensure that the technology-based solutions do not become outdated with the rapid advances in technology." Source- NEP 2020, official document
Watch the above video to learn more about the past, present, and future of education and learn how the National Education Policy (NEP) 2020 is being implemented to ensure flexibility in the curriculum.
The policy also talks about the importance of online teaching platforms like DIKSHA and SWAYAM being used for teacher training. While NEP 2020 acknowledges the importance of online education, it also highlights that face-to-face teaching cannot be replaced and hence, a blended mode of learning must be encouraged. It also places emphasis on online assessments and digital repositories of content. With the world changing at a rapid pace, it only makes sense to change along with it and embrace the same.
Find out how an integrated school platform can help educational institutes.
6. Evolution of National Education Policy
The National Education Policy 1986 emphasized the need to eliminate inequalities and equalize educational opportunities, particularly for Indian women, Scheduled Tribes (ST), and Scheduled Caste (SC) populations. Additionally, the NEP of 1986 introduced open universities and distance learning, which lead to the establishment of IGNOU (Indira Gandhi Open University).
The uniform design of 10+2+3 was the planned structure for national schools, as recommended by the Kothari Commission. The primary stage lasted five years in this structure, and the upper primary stage lasted three years. As mentioned earlier, the National Education Policy primarily focused on the education of marginalized groups. Also, retention of students in the system was one of the primary goals of the policy. With the introduction of NEP 2020, a variety of new objectives came into being for the betterment of the educational system.
The Union Cabinet of India approved the National Education Policy of India 2020 (NEP 2020), which lays out the goals for the country's future educational system. NEP 2020 replaced the old National Education Policy 1986. National Education Policy 2020 focuses on addressing the skill requirements arising due to technological developments.  The goal for Sustainable Development 2030 was adopted by India in 2015. It reflects the global education development agenda and aims to "provide inclusive and equitable quality education and promote lifelong learning opportunities for everyone" by the year 2030. In order to accomplish this and to improve the quality of education, the government had to redesign the entire educational system and it brought in changes in the education policy of India which is reflected in NEP 2020. Major changes are brought in to improve the system's quality, equity, and integrity from early childhood care and education to higher education.
7. Key Aspects of NEP 2020
We have already discussed the fundamental principles of NEP 2020, the evolution of NEP 2020, what educational institutions & teachers can expect from NEP 2020, etc. Let us take a quick look at the key takeaways or the key aspects of NEP 2020.
Revolves Around Holistic Development
NEP 2020 is shifting from the concept of rote learning and emphasizes the importance of the holistic development of students. Early Childhood Care and Education are one of the key aspects of NEP 2020.  With the assistance of the new education policy, young children have access to early childhood care and education, allowing them to engage and thrive in the educational system for the rest of their lives. To begin with, foundational literacy and numeracy are the key themes of NEP 2020. According to NEP 2020, by the time students complete class 3, they ought to achieve foundational learning standards. Therefore, the government urges all the states to take up implementation plans and provide them with study resources to accomplish this.
Nurtures Flexible Learning
Students have the flexibility to decide on courses in the arts, sciences, and crafts. It guarantees the unity and integrity of all knowledge. In order to choose their own life pathway based on their talents and interests, learners have the freedom to select their learning trajectories and programs. The new secondary school education will include a broad selection of subjects and courses offered from year to year. Along with science, humanities, and mathematics, other subjects like physical education, arts and crafts, and vocational skills are introduced into the school curriculum. As discussed in the sections before, there won't be any hard separation between arts and sciences.  
By embracing a multidisciplinary curriculum with a range of options for students to choose from and encouraging interest-based learning approaches, NEP 2020 is reinventing the traditional learning methodology. Multidisciplinary education provides students with an opportunity to explore different areas and enjoy learning them.
Emphasizes the Importance of Soft Skills
NEP 2020 focuses on the importance of soft skills development among students. Soft skills need to be acquired to thrive in any field. The skills that NEP discusses are evidence-based thinking, communication skills, logical thinking, digital literacy, coding, ethical and moral reasoning, computational thinking, and a lot more. Development of these skills would help them to broaden their horizons and choose a career of their choice.
Because of its broad use in this expanding environment, mathematics and computational thinking will be given more importance throughout the academic years, beginning with the foundational stage. Children will occasionally be exposed to activities outside of school through trips to important historical, cultural, and tourism destinations and monuments. This would help students to witness and understand different cultures and ethnicities, which would broaden their perspectives about the outside world.
Focuses on Competency-Based Learning and Experiential Learning
To improve the learning outcomes of students a competence-based learning methodology will be adopted. Art will be integrated into the classroom to unleash the creative abilities of students and also to make the classes more interactive and enjoyable for students. Along with an art-integrated learning approach, sports-integrated education and story-telling-based pedagogy will be adopted to enhance the learning experience for the students. Art- integrated learning would establish a linkage between education and culture, while sport-integrated education ensures the physical well-being of students and also paves the way for the holistic development of students.
What are learning outcomes? Read more here.
Restructures Assessment Methodologies
With the implementation of NEP 2020, the assessment methodologies will undergo a huge transformation to improve the learning outcome and also transform the way students learn. This is to shift from rote learning methodologies and embrace a more comprehensible mode of learning and the holistic development of students. Higher-order skills like analysis, critical thinking, and conceptual clarity will be put to the test primarily through the assessment procedures. In addition to this, the assessment would concentrate on continuously improving the teaching and learning methodologies to ensure the development of students.
The progress card would have information regarding the overall progress and performance of students in the classroom. This allows the teachers and parents to collaborate and bring positive changes to the performance of the students.
In addition to this, the National Education Policy is bringing in a 5+3+3+4 Education System. It includes 5 years of the foundational stage, 3 years of the middle stage, 3 years of the preparatory stage, and 4 years of the secondary stage. This is one of the major differences from the previous NEP 1986 as it followed a 10+2+3 design.
Besides, NEP 2020 encourages and supports the incorporation of technology into the academic curriculum. New technologies are covered, including digital labs, simulations, libraries, and other things. Additionally, NEP emphasizes the importance of including computational skills in educational curricula in light of the advent of technology.
The New Academic Structure: 5+3+3+4
NEP has replaced the old academic structure of 10+2 with 5+3+3+4. Under this academic structure, preschool stages are also considered crucial in a child's development.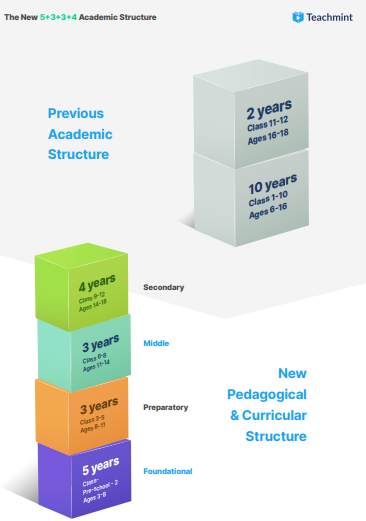 Foundational Stage
This stage consists of 5 years of activity-based learning and pedagogy of ECCE. It includes students from 3 to 8 years old i.e. from Anganwadi or preschool to class 2nd.

Preparatory Stage
This stage includes children from 8 to 11 years old i.e. from classes 3rd to 5th. In this stage, the incorporation of light textbooks, as well as aspects of formal yet interactive learning, will take place. This would be beneficial for laying a solid foundation in reading, writing, speaking, art, languages, etc.

Middle Stage
It comprises students from 6th to 8th classes. At this level, the focus will be on critical learning objectives which is a significant shift from rote learning which has been persistent in the 10+2 academic framework.

Secondary Stage
This stage includes students from classes 9th to 12th i.e. children from 14 to 18 years old. In this stage, 4 years of multidisciplinary study, subject-oriented pedagogical style like the middle stage, but with greater depth are included. Also, students will also have the flexibility to choose subjects.
NEP in the Union Budget 2023
The Union Budget on Education 2023 has also emphasized the importance of NEP 2020. This year the budget allocation to the education sector has been increased by 8%, the highest ever till now. Moreover, important NEP guidelines such as teacher training and empowerment, promotion of regional languages, and holistic development of students have been considered when declaring the education budget.
Some of the important points included in the education budget are:
Establishment of Digital Libraries
Promotion of Regional Languages
Teacher Recruitment for Tribal Schools
Centers of Excellence for AI Research
PM Kaushal Vikas Yojana 4.0
Unified Skill India Digital Platform
Read more about Union Budget on Education, here.
Conclusion
The government's National Education Policy 2020 program is a major step in giving access to high-quality education. The National Education Policy 2020, is undoubtedly a turning point in the history of the nation. It is an excellent initiative that addresses numerous problems that have bedeviled the educational sector throughout the years. From teacher education to pedagogy to digitization to equity and accessibility, NEP 2020 ensures that no stone is left unturned. In the long run, the policy will benefit the nation's overall development. Students will gain new skills and become future-ready with the implementation of this policy.
Teachmint offers the most sophisticated integrated school platform for the 21st century, bringing together the most effective elements of teaching, learning, and management together under a single roof. To know more about our features like performance management system, visit our website! Explore the range of our offerings like the lms portal.
To stay updated follow Teachmint news
Learn more about Teachmint plans here.