All great things start with the decision to try. It is common for students to be distracted and lack concentration. If you are a student who's constantly looking for motivation, you are not alone! Quite often, students need a push to study and it is totally okay to feel lazy and unmotivated. The point is to look around, get inspired, sideline the laziness, and jump right on track. Today, we have a compilation of 20 motivational quotes for students and we will also be discussing why we need the motivation to study.
Why do you need motivation to study?
What you have to understand is that all people lack motivation. Do not beat yourself up for not being productive. Motivation helps to:
Increase focus
Be productive
Push your limits
Challenge yourself
Schedule your tasks
Better yourself
The right kind of motivation helps you to achieve your goals and it encourages you to do more. The key is to understand that no matter how much you look around for motivation, the true motivation comes from you and with your decision to take the first step. These motivational quotes are sure to give you the necessary push. These are not just motivational quotes; these are inspirational thoughts for students with explanation. Without further ado let's look at 20 awesome motivational quotes for students:
20 Awesome Motivational Quotes for Students Success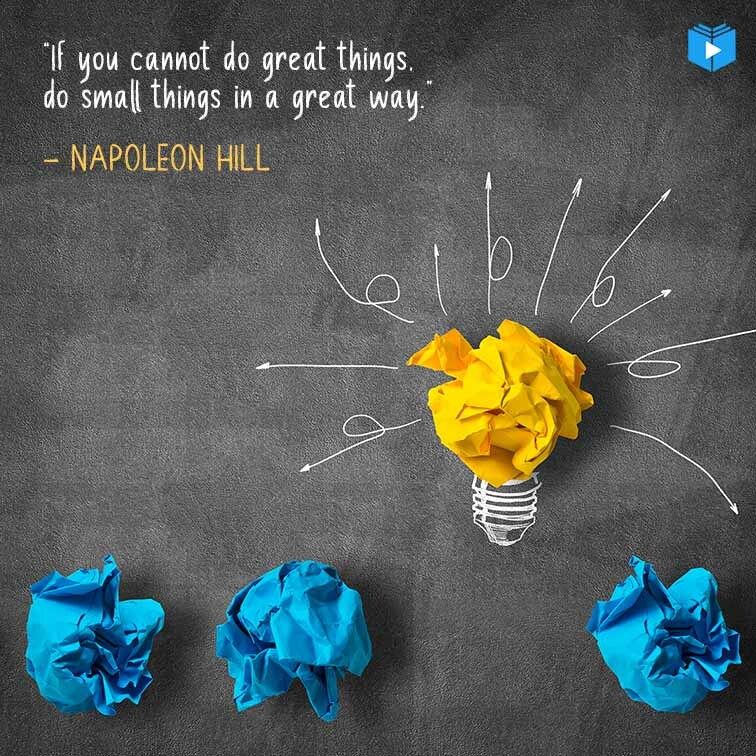 "If you cannot do great things, do small things in a great way." – Napoleon Hill
This is not just a motivational quote for students' success but one that everyone needs to apply in life. We often go behind bigger things and forget how little things can make a difference. If getting a good grade in all the subjects is your target, start with getting an A on one paper or one unit test. Ace one lesson and then go for the whole subject. If you don't have the supplies to make your project look fancy, put in your efforts, do your research, and give it all you got in order to make it a great project from your end. The idea is not to be better than others but to be better than who you were yesterday.
Suggested Read: Intrinsic Motivation in Students
2. "You may encounter defeats, but you must not be defeated."- Maya Angelou
This is one of the most important motivational quotes to study hard. It is a quote for success. More often than not, one failure brings down the spirits of students. A single exam or failure does not define who you are. The moment you give up on yourself and stop working hard because you faced a defeat, that's when you are truly defeated. Your failure begins when you refuse to get up. Always remember that there's nothing that you cannot achieve if you work for it. For instance, the pandemic brought the world to a standstill. It was a setback. However, people were quick to come up with solutions and strategies. Online classes and virtual classes became a way of life, we saw people coming together by staying apart.
3."No need to hurry, no need to sparkle, no need to be anybody but oneself."- Virginia Woolf
If you are looking for motivational quotes for students' success, this one is especially for you. You don't have to hurry. Take things slowly, at your own pace. You don't have to be in a race and become someone else. All you have to do is never stop trusting yourself and never stop growing and evolving.
4. "You cannot change your future, but you can change your habits, and surely your habits will change your future."-A.P.J. Abdul Kalam
Sir Abdul Kalam's life in itself is a motivation for students and everyone. This is a very powerful motivational quote for students' success. A small lifestyle and habit change can make a huge difference in your life. It might be how many hours you study, when you wake up or when you go to sleep, the books you read, it can be anything. But make sure you are doing something that will be beneficial to you in the future.
5. "Doubt kills more dreams than failure ever will." —Karim Seddiki
This is a very apt motivational quote for students because students often end up giving up on themselves and their dreams due to self-doubt and apprehension. You don't have to doubt yourself; you just have to keep getting better at what you do.
6. "If You Judge a Fish by Its Ability to Climb a Tree, It Will Live Its Whole Life Believing that It is Stupid."- Albert Einstein
If you fail in a subject, don't lose hope, or don't ever think that you are not worth it. Everyone is blessed and you just have to figure out what your talent is.
7. "Only those who will risk going too far can possibly find out how far one can go."-T. S Eliot
This motivational quote from Eliot pushes everyone to go the mile to achieve great things. If you are afraid to go beyond the limit, you will always be in a box. Take risks and show the world what you are capable of.
8."When you are doing any work, do not think of anything beyond. Do it as worship. As the highest worship and devote your whole life to it for the time being." - Swami Vivekananda
This quote underlines the importance of commitment and devotion to the work that you do. Be it a simple assignment or a class test, give it your best. Don't let your mind be distracted and you are the only one who can stop yourself from being distracted.
9."Remember that failure is an event, not a person."- Zig Ziglar
When you fail an exam, that's not the end of life. It just means that you have to put in a little more effort than the last time. It is just a passing moment and does not define you. Study harder and make a comeback. We have discussed in detail about intrinsic motivation and extrinsic motivation in one of our previous blogs, read it here.
10."You miss 100 percent of the shots you don't take." – Wayne Gretzky
If you are apprehensive about doing something or not appearing for an exam in the fear that you will score fewer marks, you are just ensuring your failure. Never be afraid to take a new step. As discussed in the beginning, everything starts with the decision to try.
11."The expert in anything was once a beginner." – Helen Hayes
You can't expect yourself to be the best on the very first day. You have to work for it and gain it through passion and commitment. If you are bad at Maths, do more sums and problems until you master it. Do your best and do not worry about the results.
12."The beautiful thing about learning is that no one can take it away from you." – B.B. King
Your education is an asset that no one can take away from you. It is not money that you should aim for, it is quality education. That is what will take you to places; the willingness to learn and the need to grow.
13."If You Are Working On Something That You Really Care About, You Don't Have To Be Pushed. The Vision Pulls You." – Steve Jobs
Always have a vision of what you want to achieve and what you want to become. When you lack motivation, think about that vision and you will win in life. These quotes for students' motivation help you stay focused. It also makes one understand that no matter how many motivational thoughts for students you read, ultimately, you have to put in the effort to succeed.
14."If you can't fly, then run.
If you can't run, then walk
If you can't walk, then crawl
But by all means, keep moving."- Martin Luther king
The quote is self-explanatory. Everyone needs to apply this in life. No matter how defeated you think you are, you must always keep working on yourself and move forward. This is one of the most important motivational quotes for students and everyone else.
15."If you can dream it, you can do it."- Walt Disney
It is as simple as that. If you can dream about passing that exam, you can definitely do it. If you are dreaming to get into that college, you can. No one is saying that it might be easy, but it is definitely possible.
16."There are no secrets to success. It is dedication, hard work and learning from failure."- Collin Powell
If you are wondering how the other kid is doing better than you, it is simply because they are working for it. Success belongs to those who are passionate and committed to their goals and their dreams.
17."Doing the best at this moment puts you in the best place for the next moment." - Oprah Winfrey
All you have is this moment and make the best of it. Students often procrastinate on things and that is the worst thing to do. If you can, do it then and there and give your best. It is sure to give you happiness and will lead you to success.
18."Things do not happen. Things are made to happen."- John. F. Kennedy
If you want to be the topper, you have to work for it, if you want to pass the exam, you have to study for it and the same applies to everything that you want in life.
19."Opportunity is missed by most people because it is dressed in overalls and looks like work." —Thomas A. Edison
Most people, students especially, take a step back when the going gets tough. Work harder and defeat the hurdles. Do not give up when there's a lot of work to do. Stay up and get that work done. Opportunities don't come often, grab it when it does.
20."All of us do not have equal talent. But, all of us have an equal opportunity to develop our talents." ― A.P.J. Abdul Kalam
Quite often we blame fate and say that we could have done better if we had XYZ material things. Every day, you have an opportunity to work on yourself. No matter how hard it is or how hard it might seem. Hard work will take you places. There's no point in playing the blame game. Get up and work for what you want.
Students have a lot to worry about each day, in between all the hustle-bustle, their busy world demands some motivation to keep going on. Whether to encourage them to relax, gear up, or simply help them cope for the time being, students crave those uplifting words at the end of the day. Here are some study motivation quotes to breathe life into you, and help you conquer your education goals;
Quotes for Examination Motivation:

"Education is the most powerful weapon which you can use to change the world." - Nelson Mandela
"Your positive action combined with positive thinking results in success." - Shiv Khera
"The only limit to our realization of tomorrow will be our doubts of today." - Franklin D. Roosevelt
"I find that the harder I work, the more luck I seem to have." - Thomas Jefferson
"Believe in yourself and all that you are. Know that there is something inside you that is greater than any obstacle." - Christian D. Larson
Study motivation quotes for maintaining consistency in everyday routine:

"Consistency is a cornerstone of wisdom." - Mark Twain
"The only way to do great work is to love what you do. If you haven't found it yet, keep looking. Don't settle." - Steve Jobs
"Excellence is never an accident. It is the result of high intention, sincere effort, and intelligent execution; it represents the wise choice of many alternatives—choice, not chance, determines your destiny." - Aristotle
"Motivation gets you started. Habit keeps you going." - Jim Rohn
"The road to success is dotted with many tempting parking spaces." - Will Rogers
Quotes to encourage productivity:

"The best way to get something done is to begin." - Lewis Carroll, "Alice's Adventures in Wonderland"
"Amateurs sit and wait for inspiration; the rest of us just get up and go to work." - Stephen King
"Success is no accident. It is hard work, perseverance, learning, studying, sacrifice, and most of all, love of what you are doing or learning to do." - Pelé

Just like Douglas Adams says, the universe is big. You just won't believe how vastly, hugely, mind-bogglingly big it is. So get started with learning more every day, take inspiration, and keep going!
Conclusion
Quite often we look around for motivation, but the best kind of motivation starts within you. Concluding the blog with a powerful motivational quote from BB King, "The beautiful thing about learning is that no one can take it away from you." No matter what comes your way, it is of paramount importance to remember that knowledge cannot be taken away from you. Invest in yourself and upskill yourself every day. Slowly, but surely, you will witness changes that you will be proud of.  
You are the only person capable of bettering yourself and achieving goals. We hope the above-mentioned motivational quotes for students give you the necessary nudge. These motivational quotes for student success will help you get a new perspective. We have discussed positive quotes that are motivational and are sure to help the readers gain a new perspective.
Teachmint is one of the leading education infrastructure providers in the country. With our advanced learning management system, you can improve the teaching-learning experience. Our offerings like education erp, admission management system, fee management system, and others conveniently digitize educational institutions.
Learn more about Teachmint plans here.