We wanted our first blog to tell our story and what we stand for.
We have always believed that the distance between dream and reality is action and our ardent efforts and perseverance resulted in the birth of Teachmint.
Teachmint is the brainchild of four friends, Anshuman, Divyansh, Mihir, and Payoj. We have always wanted to start something of our own for a very long time. After careful consideration of the education sector and the ways of it, we decided that education has to be our area of operation.
After graduating from IITs and working with top organizations, we were bent on the idea of creating a platform for extracurricular activities. We couldn't move forward with that idea because of the inability to scale and reach the masses. However, we were keen on creating something that spells our passion and interest.  We started thinking about more scalable ideas pertaining to the education sector.
After careful contemplation, we understood that our teachers were trying hard to take their classes online. Primarily because they were losing their students to online teaching platforms. The only way for teachers to reclaim their position would be to take their classes online. This would help them to grow manifold. The kind of results that accompany a good online class are commendable. However, the main issue is that there aren't any platforms that provide a one-stop solution. We knew that this was what we had to work on.
That's when the lockdown started and the outbreak was starting to take a toll on us within no time, schools and colleges as we know it, came to a standstill. This acted as a strong call to action. It was time to help our teachers who were struggling to teach their students.
The existing solutions available in the market are either disconnected or too complex. It is said that the art of teaching is the art of assisting discovery. And we realized that it was time for us to assist those who have assisted us to reach where we are. We wanted to create a holistic platform that was simple and effective.


That's why Teachmint was started; to weave ease and efficiency into the fabric of the daily lives of teachers. To equip them for the need of the hour and to empower them for the needs of tomorrow. We aim to democratize education and take learning to the nooks and corners. We want to be there for the teachers and help take the stress of online teaching off of them.
Within two weeks of launching Teachmint, over 1000 teachers and students started using our app and found it beneficial.
"It's very easy to conduct live classes and manage virtual classrooms. Truly an all-in-one app ." said one of our users while sharing her experience with us.
We want our platform to redefine online teaching. Our main aim is to serve teachers in the best way possible. We are happy to equip teachers from various parts of the nation with the online teaching tools that they need.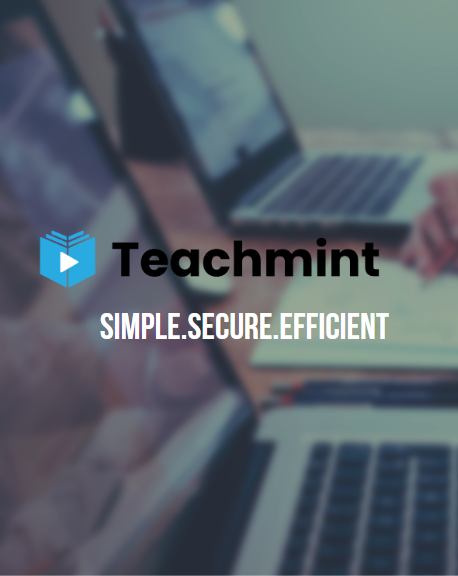 'Online classes' and 'remote learning' have integrated themselves into the daily vocabulary of teachers, students, and even parents for that matter. This is an inevitable shift and Teachmint ensures to make this shift easy and effortless. Education is being redefined and this disruption marks the beginning of something new, full of opportunities, and hopes. Teachmint will light that hope and brighten the days to come.