Nowadays, we need very efficient school management system modules to meet the dynamic needs of an educational environment. Schools worldwide have been adopting technology to elevate their learning environment to benefit students & teachers alike, reduce redundancy, and provide an enhanced educational experience. Teachmint's Integrated School Platform offers such comprehensive solutions.
Why Choose a School Management System?

A school management system offers multiple benefits, making it an irreplaceable part of educational institutions:

Data Management: Maintains a detailed record of student and teacher data, reducing the workload for school administration, and automizing data processing.
Easy Student Portals: A central platform for school-related information, including course resources and schedules.
Communication: Improves parental involvement, they can access student data, anytime, anywhere.
Managing Finances: The school administration relies on a module to manage payments, and fees, secure the portals, ensure privacy, etc.
How to Create a School Management Software Module?

Schools can perfect their software by offering a range of modules for everyday functioning:

Admission Module: Transforms the admission process by allowing remote applications and status tracking for each student, simplifying the enrollment process for both applicants and school administration.
Student Management Module: Students can create custom profiles to view learning resources, including academic records, extracurricular activities, emergency contacts, etc.
Communication Module: Smooth communication between teachers, administration, and students is the basic objective of a centralised module.
Exam Management Module: Both, offline and online exams can be taken and graded easily.
Transport Module: Streamlines school transportation management for real-time tracking of buses and student safety.
Library and Digital Resource Module: Manages student data and library operations, tracks issued books for each class, and stores educational material which can be viewed online.
Financial Module: To guarantee security for students when paying fees, and simplify the institutions' payment processes.
Classroom Module: Manage live online classes for distanced learning.

Classroom modules can be diverse, depending on the school's values, students' requirements, etc; with unique features picked by the school administration. A well-chosen school management system, like Teachmint, offers continuous assistance in automating tasks, improving classroom productivity, and enhancing the overall quality of education.
An effective system for school management plays a crucial part in the present-day educational system. School administrators across the world are involved in a variety of administrative and educational responsibilities on a daily basis in order to efficiently manage and provide an enhanced educational experience to their students. However, maintaining and monitoring school administration duties is not a simple task in a rapidly developing world. It is time-consuming and demands manual labor. Switching to automation to skip redundancy can bring about a revolutionary change.
Educational institutions increasingly use school management software to effectively carry out their school administration tasks and to give parents confidence in the progress and safety of their children. Such applications frequently include a wide range of features that help users accelerate their progress. School management software eliminates human paperwork and automates a range of educational and administrative tasks.
When choosing school management software, any educational institution must consider the value and significance of software that supports current and related market practices. A school should use school management software that fosters service quality and operational excellence.
Teachmint: An Integrated School Platform
Using automated online systems synchronized with technology enables schools to manage operations, including administrative tasks like admission management, learning management, grading, fee collection, and more.
Teachmint's Integrated School Platform enables seamless LMS, ERP, and digital content integration in a school setting that is advantageous to all parties involved.
School management is greatly simplified when the distinct ERP features communicate with one another. Schools can organize their resources and administrative activities utilizing a centralized system like Teachmint, which allows educational institutions to be more economical and efficient year after year.
The most fundamental advantage of using an Integrated School Platform is that it provides schools with the unique possibility of complete operational flexibility. With the use of Teachmint's Integrated School Platform, every part of the school may be tracked and documented methodically,
From the registration of a student and monitoring their progress to the creation of certificates when students graduate– Teachmint has you covered for all!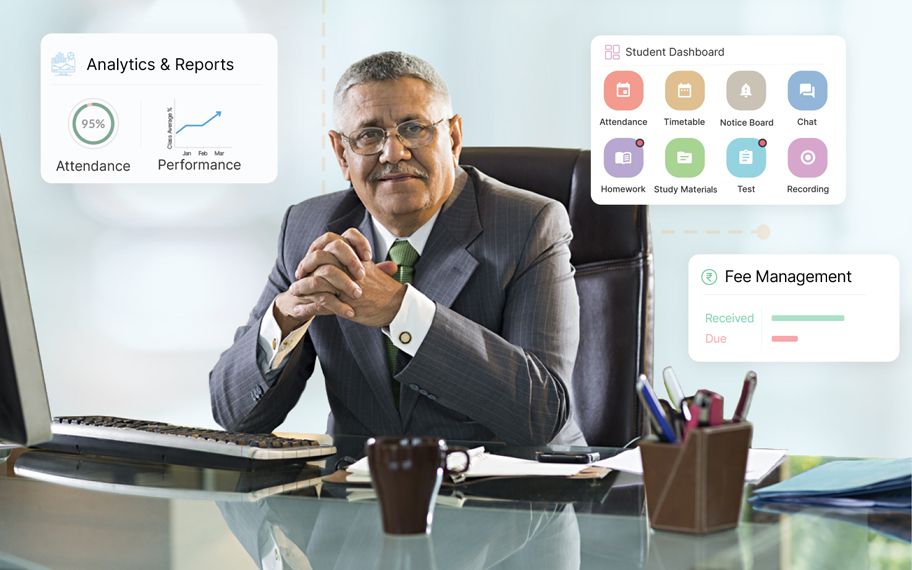 Why Choose a School Management System?
The dynamics of the school management software modules are influenced by the goal for which it is employed. It can be used for various applications, such as recording student and teacher data. Also, using a personal communication system for interaction could keep everyone up to date on information and data.
The major benefits of adopting a school management system are as follows:
Data Management
They not only improve student data accessibility but also lower the cost of student administration.
Transport management, library management, etc., help keep a record of the facilities offered.
The technology securely stores student information.
It enables teachers to monitor every student's actions and performance.
Parents may access information at any time using Teachmint.
The accounts department can manage fund data, connect with parents, and maintain records of payments and refunds.
Monitoring students' attendance is far easier with school management software. This software is perfect for multi-campus institutions where attendance monitoring is vital for school expansion.
Easy Student Portals
It offers a single location for all school-related data, reducing the possibility of hostile actions trying to intercept login details.
With a student portal, the students can access the learning management system (LMS) of the institution.
These portals provide access to course resources, including articles, videos, and lectures, to the students.
These portals could also give information about the institution, such as course curricula, schedules, and educational materials.
Communication with Parents
Parental involvement is vital to a child's educational achievement. Parents/guardians have direct access to their child's information, where they may view their children's performance in relation to the class average and maximum.
Interaction with parents/guardians allows the school to send them alerts about significant events and fees.
Parents/guardians can even make online payments for their children using the Fee Management module of Teachmint.
The Private Chats feature keeps the parents/guardians informed. This suggests that they can maintain a relationship with the school, which may enhance student achievement.
Managing Finances
Fee management is one of the most important aspects of the school's operations. It is challenging to effectively manage school finances and uphold regulation with financial and tax rules without the right accounting system. However, if used correctly, school management software can speed up these operations.
Integrating fee management software with a management system will ensure that all interested parties get equal access to the required data.
The distribution of financial resources gets in balance and is in compliance with the school's growth plan.
All expenditures can be monitored, and all transactions can be tracked.
Additionally, school administrators can set up controls over financial management and ensure that their accounting procedures adhere to government regulations and directives.
School Management Software Modules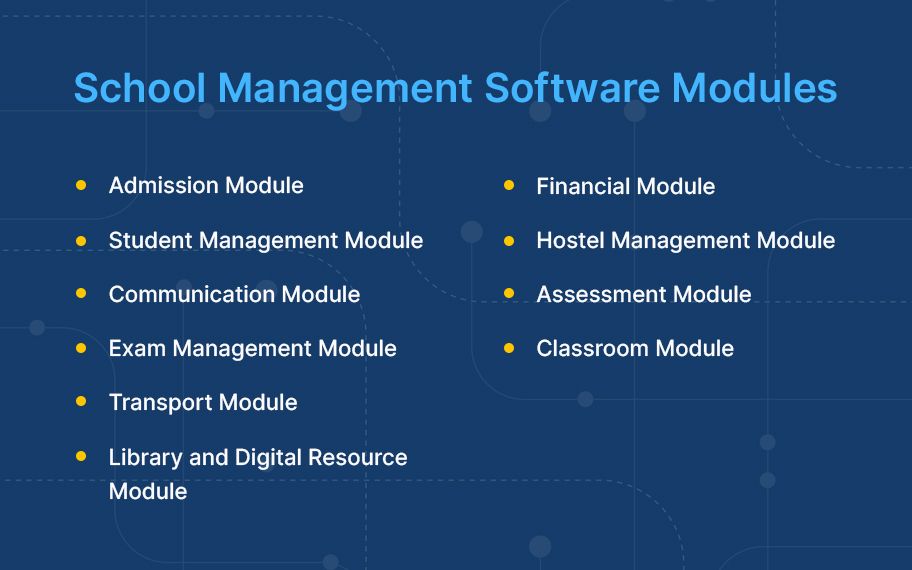 School Management Software is an incredibly useful piece of software for schools. All manual tasks are transferred to the digital platform. It improves the effectiveness and precision of the work to be done while also helping the school economize on time and money. The schools use the following school management software modules for effective administrative and educational functions:
Admission Module
Admission season traditionally witnesses parents and kids rushing from pillar to post with a pile of admissions forms and extra documentation in their hands. School admissions departments can be seen trying to process massive numbers of submissions and send out acceptances on time.
Teachmint's admission management software moves the entire procedure online and allows for the remote submission of the application forms and necessary paperwork. The applicant dashboard enables them to follow the status of applications and provides timely reminders to submit their applications by the deadlines. Additionally, the applicants can pay online and receive alerts regarding the status of their applications. This module eliminates paper and speeds up the application and enrollment process for both applicants and admissions teams.
Student Management Module
This is one of the fundamental school management software modules. It helps academic institutions in developing complete profiles of each student. It includes their name, address, phone number, email address, demographic information, emergency contacts, academic records, extracurricular activities, awards, and images.
The creation of student ID cards, communication with parents regarding their children's attendance and academic progress, and any outstanding debts can all be done using this data. Teachers and school management can quickly access this data to check and update the information of students and academic records and decide how to better support their student's learning and success.
Communication Module
With a dedicated communications module in your management system, you can facilitate personalized communications between teachers, administration, and students. This school management software module helps in setting up a system that can manage numerous inquiries and feedback, route them to the appropriate department, and send timely follow-up notifications and solutions. Thus, it minimizes any delays in answering questions or addressing other problems. It can be used to send notifications about attendance, exam schedules, unpaid fees, test results, holidays, school events, and other significant events.
Exam Management Module
All schools and institutions must have the necessary infrastructure to administer tests online. An exam management module is a practical answer to this problem. It can help design timed tests with elements to accommodate questions based on text, math, images, videos, and even audio.
Teachmint ensures that the benefits of the exam management module are not just limited to online tests. Teachers can create test/exam papers for offline exams in a few easy steps for any course, class, or subject they like. To lessen the stress on teachers, the question bank includes more than 20 lakh pre-loaded questions. It covers several boards and competitive tests. Then they can select the topics and the number of questions for the easy, medium, and difficult levels. That is all teachers have to do in order to create examinations and assess students' progress using Teachmint.
Scheduling & planning tests and creating report cards become very simple and automatic with Teachmint's school management software module.
Transport Module
A transport management system serves as the backbone of an effective school transportation service. It helps in organizing numerous personnel, vehicles, and routes taken by the students. With a well-thought-out software management system like Teachmint, you can track the bus's real-time location, making sure the safety of students and workers while on the road. In order to increase safety and time management, school transportation modules make concise use of data linked to transport, including specifics about the automobile, vehicle student charting, route fare mapping, servicing, and costs.
The school's transport management system allows for the addition of pick-up stations. It gives schools accurate information about where the kids are coming from. It will be easy to maintain track of the bus routes and all of their data in this manner. With the use of the transport id card facility, school administration can determine the children who are particularly taking school buses. Each student is given a unique transportation ID card with a barcode that can be scanned.
Also Read - How can Transport Management System Help Schools?
Library and Digital Resource Module
This is one of the school management software modules that ensure perfect operations and uses contemporary technology to send alerts for any impending book fair events via SMS and email notification. Additionally, it facilitates the easy detection of requested books by students as well as the awareness of issued books. The school administration maintains a watchful eye on the library staff, and school library software enhances productivity. Even generating a library id card becomes very easy with all documents available with a single click.
All of the school's or university's digital materials are managed automatically by the digital resource module in a digital repository. This covers a wide range of publications, such as photo albums, magazines, newsletters, movies, and audio files. In addition to keeping track of what is borrowed and returned, this enables students to use digital learning resources on the internet based on their availability.
Financial Module
The finance module automates all of the institution's financial transactions. This enables the institution's assets to be managed effectively, as well as the handling of fee payments and receipts, loan payments, banking transactions, tuition waivers, and payroll management. This school management software module can be used to remotely create financial statements, budgets, and other internal reports.
The fee report/fee receipt is a record of the payment that the student successfully made to the institution as a part of their fees. The fee report is a crucial document for many parents since they can apply for tax compensation on it. As a result, this should look official and be simple to link to the institution that provided it. Teachmint gives schools the ability to create their own unique fee receipts that include the institution's branding and logo.
Hostel Management Module
Without an appropriate school management software module that addresses many different factors, such as student registration, confirming availability of rooms, in-out time, financial planning, and other reports, managing a hostel is a difficult process. These operations demand time, effort, and manpower. The hostel management system by Teachmint allows for the digital completion of all these activities without the use of extra resources.
The real-time perspective of room management helps simplify the process of hostel administration. After getting the specific room assigned, many students often ask for room transfers for a number of reasons. The hostel wardens have the authority to arrange such accommodations, and the transfer service will work with them to ensure the room transfer process is as easy as possible.
Managing students' daily attendance - their arrival and departure times - at a hostel can be a time-consuming process, especially in large or medium-sized hostels. The hostel's attendance control system makes it simpler to manage attendance in these circumstances. Additionally, it minimizes the likelihood of human error.
Also Read - Why Hostel Attendance Monitoring Systems are Important
Assessment Module
The assessment module enables educators to easily plan and schedule exams and tests. Both teachers and students are notified about future examinations so that they are all on the same page.
Teachers can create homework and tests using 20 lakhs + questions available on the platform. They can also upload questions in formats of their choice, including images, documents, and more.
The following features make Teachmint's assessment module unique:
Inbuilt question bank
Automatic test creation
Selection of difficulty levels
Subjective evaluation
Exam scheduler
Question shuffling
Shareable links for different exams
Individual student analytics to gauge performance
Question and test-level analytics
Leaderboard
Teachers can use performance management to assess students' progress and support their overall growth. To assess how well their students are doing in class, teachers can evaluate a variety of reports. Teachers may modify the teaching techniques if they notice differences or inconsistencies in their student's academic progress. Make the method of performance assessment easier using this school management software module. Provide the students with the best assessment while supporting their development on the whole.
Roles & Permissions
The settings control the type of operations teachers and other job roles can perform. Making it highly user-friendly, this section defines different job roles. The admin can create and delete new and existing job roles, respectively.
For instance, accountants will have nothing to do with results, content, ID cards, or classroom attendance. Therefore, they will not be given access to them. However, they will need control in the fee section, inventory management, overall collection, and other relevant sections. Similarly, teachers mainly deal with attendance, academic content, and related sections. Balancing roles & permissions hence will enable very smooth functionality across the administrative hierarchy.
Classroom Module
Schools that choose to deliver live online classes in case of any emergency can enjoy the Live Class Recording function. It is one such tool that can help avoid any potential issues that might occur in the online classroom.
The Teachmint private and classroom chat capabilities offer a productive framework for interclass communication. Both teachers and students find it to be convenient, simple, and pleasant.
Wrapping Up
A large amount of data about students, teachers, administrators, and others are both directly and indirectly handled by institution members. The unparalleled assistance offered by school management software not only makes the execution of tasks seamless but also uplifts the overall quality of education. Therefore, it is essential to choose a school management system after a thorough analysis of its characteristics, modules, performance, and security aspects.
Teachmint has proved its mettle in delivering almost all-encompassing solutions that automate operations, boost efficiency, and reduce overheads. With developing cutting-edge tools, this SaaS platform solves and transforms the ed infra space in India. Trusted by 10+ million teachers and students, it is the largest teaching-exclusive platform globally. What's more? Teachmint comes with an unmatched reach of over 30 countries and 5000+ cities in India while being available in 20 Indian and international languages.
It is time schools simplify processes and intelligently manage them their way!
Learn more about Teachmint plans here.