Be it a single branch or a well-known franchise, the management system of schools is no less than an organization. Overseeing students, teachers, resources, and finances amounts to a lot of work. Generally, these operations are manually performed. An efficient system for school management works to eliminate manual interference by adopting automation. Teachmint brings forth an innovative Integrated School Platform customized solely for the specific needs of the school.
Before exploring the outshining features of school management system, here is a quick understanding of what School Management Software is. As evident by the name, software for school management refers to the software designed to meet the educational and administrative needs of a school by providing control to admins and other authorities. It introduces an automated mode of communication and action, speeding up the work and reducing the chances of error.
Teachmint offers Integrate School Platform comprising LMS, RS, and digital content. LMS refers to a Learning Management System, which mainly concerns the ease of delivering education. RS, or Resource Management, offers assistance to the management system of schools through digitization.
Learning Management System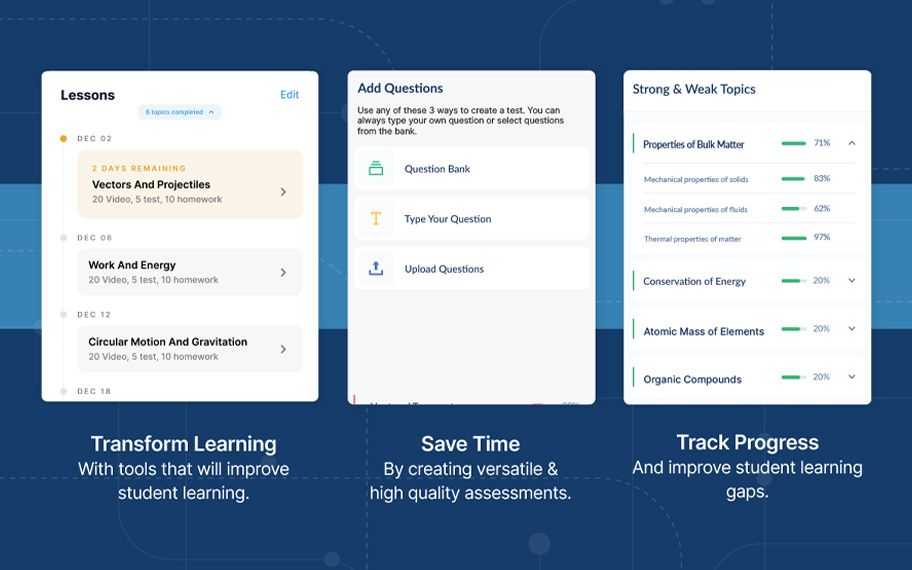 To ease the teacher and student interaction, class tests, and homework collection, the following features are provided through Integration School Platform:
Homework and Exam: Generation and Evaluation of Assessments (Tests + Homework)
Teachmint has more than 20 lakh questions to assist teachers in creating tests. The portal eases test creation by allowing you to select information on the type of tests, their number, and difficulty level. Moreover, teachers can type in or upload the questions in any format, depending on the requirement. Furthermore, homework can be assigned to the classes through simple clicks with desired scheduled dates.
Questions and test-level analytics inform teachers about their student's performance. The option to add feedback grants individual attention to the students & is highly beneficial for planning and enhancing revision strategy.
Features to understand strong and weak points guide students in the specific revision of lessons. The leaderboard feature helps in individual analysis by indicating the position of students compared to other class members.
Thus, with Teachmint, teachers can effortlessly check the number of completed assignments and also generate information notices or reminders.
Anywhere and Anytime Classes (Live Classes + Live Class Recording)
With an increasing number of schools embracing digitization, this features school management system as a blessing.
The interactive live classes will not lead to students missing any important classes, at least due to minor health issues or other engagements. Schools have the opportunity to conduct live classes from anywhere to foster the completion of students' courses. Similarly, students on leave can go through the day's recorded session at their convenience.
In addition to students with health issues, these class recordings will be an asset for students with sports injuries and those on trips for participation in inter-school events. Often students preparing for national-level competitions have to focus entirely on their preparation, and they fail to attend the classes. Recording the live classes will help them recover all that they miss.
The administration can benefit by monitoring the teacher's performance anytime and anonymously. Any complaints concerning teachers' behavior or breaking the code of conduct can at once be answered, given these recorded classes.
Encouraging Class Engagement
Teachmint favors the easiest creation of homework and tests while allowing teachers to regulate the difficulty level as per the preparation level of their students. The digital content is available 24 x 7 for students who wish to clarify their doubts or get a better understanding of crucial concepts.
For schools that prefer conducting online classes, Teachmint has customized them to be similar to offline ones through polls and raise hand features. Students can ask their doubts during the sessions and participate in polls to answer the questions or affirm or negate the teacher's statements.
Study Materials
The requirement for study materials can arise at any time. The opportunity to access them at any time is provided by Teachmint. Teachers can upload their handwritten notes or other references.
So, no more excuses wherein students state that they cannot carry books on vacations or trips. The go-to study material will encourage revision in a short span of time. Teachmint further offers students supplementary material for studying, revising, and practicing questions based on crucial concepts.
Attendance
The attendance feature saves both teachers' and students' time, subsequently allowing greater time to be devoted to classroom teaching. Moreover, automated attendance calculation gives teachers an insight into students' punctuality. The communication feature further eases notifying the guardians about the same.
Private and Classroom Chat
Besides classroom chat, the private chat option encourages shy students to clear their doubts after school hours. Personal attention promotes interaction and discussions regarding students' strengths/ weaknesses and personal issues.
Communicate through App
The student's performance can be further communicated to parents through their account or SMS, based on app availability on their phones. Parents, students, and teachers get customized apps based on their functional requirements.
For instance, teachers get schedules notifying them about upcoming, ongoing, and previous classes, while parents get important announcements, notices, fee notifications, and other related information.
Advanced Administrator Tools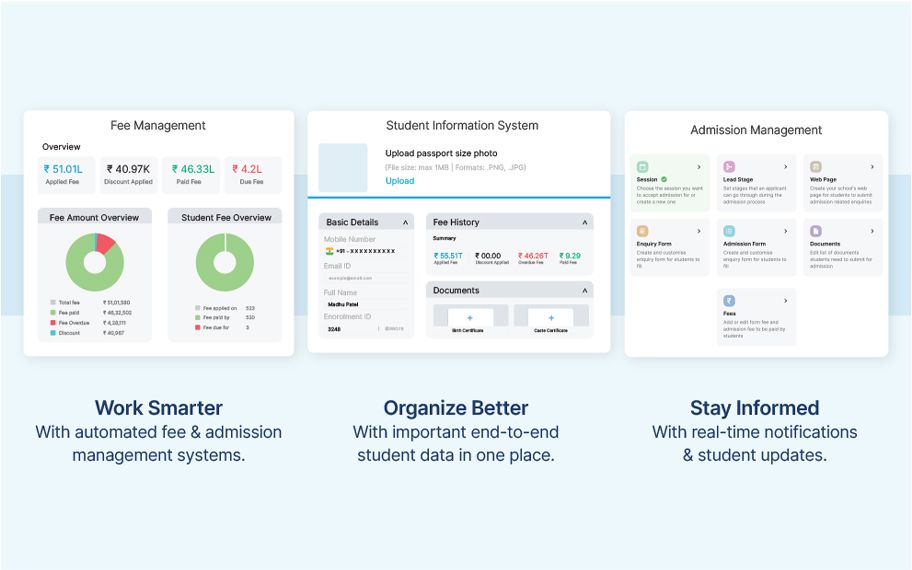 Schools have enormous data and numerous resources. They require separate departments for their management. The portal introduces one stop to manage everything, gain details, interact with vendors and parents, and much more. Here are the features enlisted:
Student Information System
Customized for each school, the Integrated School Platform (ISP) allows one to upload the data once and access or use it anywhere. Another important feature is automated report generation. It includes ID cards, certificates, and report cards. So there is no need to manually and redundantly enter the data.
The directories are for administration, staff, and students, giving an overview and ease of searching for a person with multiple alternative details. School admins can easily assign new roles and access to new staff members based on their responsibility. Furthermore, school admins add or edit basic details of students and staff, change the visibility and editability, and apply different filters to sort and enter details in the profile settings once.
ID Card and Certificate Generation
The platform provides template certificates for students and teachers. You can also find the option to create new certificates. Select multiple students at once or search among the list to generate the certificate. You can also download the customized certificates to offer a physical copy to the students.
Similarly, school admins can choose the template for the ID card, search for the name of students/ staff or apply a filter of class, new or old students, and updated information. All they have to do is add details, have a final view if required, and download the ID card. It is that simple!
Report Card Generation
The platform eases report card generation through the availability of several templates. Preview and edit details as per the different classes and sections. Select the details on the report card with a single click, and select scholastic and non-scholastic areas. Customize the report card for a grade, percentage, or both, depending on the school board. Add or remove attendance, remarks, and signature and print or circulate it for final approval and distribution.
Admission Management
The admission management portal allows administrators to check the inquiry, requested, shortlisted, rejected, and accepted candidates. School admins can carry out the following tasks in a matter of a few clicks:
Simultaneously respond to queries or take action from multiple options.
Design the admission and inquiry portal, exhibit the sessions open for admission, set the admission, and subsequently modify document and fee updates depending on the requirements.
Apply filters for classes and available categories from the section, change the data duration or session, and download any required information.
Add new leads, check the transactions, go through the follow-up details, and modify the changes in settings.

Website Builder
The website builder allows schools to build their website without extra payment or worrying about the domain name. The template further eases launching the website and adding services and features of school management system specific to the school. The admins can incorporate all the details and have a website preview to know if anything is missed. They can add on every specific and small detail and edit anytime to update the features and new offerings.
Design each menu, create a creative design, customize the settings, and make up a unique public appearance to attract numerous students and parents.
Also Read - Importance of Website for Schools
School Yearly Calendar Planner
The tabulated calendar representation categorized into week-offs, holidays, events, and exams provide clarity over a year's and session's schedule. Administrators control the creation and modification of this information.
Exam creation and attendance visualizer provides an overview for analysis and further planning of important actions. Furthermore, exams and other events can be planned to avoid any clash in dates and timings.
No need to go through separate pamphlets for every event and to remember the events. Scheduling is a matter of minutes now. Utilize the saved time in planning and innovating the event through interesting and new strategies.
HRMS
School admins can effortlessly manage leaves and staff attendance through this feature. Mark the attendance or leave with a simple click, and visualize the reports for any day. To simplify, admins can analyze the present and absent number of staff members and search by staff name. Confirmatory messages allow cross-checking and help avoid incorrect attendance records. Furthermore, admins can easily download the attendance of a session, month, or last three months in .csv format and share it with concerned authorities.
The leave management provides insight into an overview and detailed view of leaves coupled with a download option. Admin can create leaves on other members' behalf. The settings permit changing the number of allowed leaves. Moreover, a detailed view shows the number of pending requests, available and total leaves for all the applicable types of leaves.
Communication Module
Teachmint offers direct communication with 10,000 free SMS messages to the school. Additionally, schools can share the information on Whatsapp or through App reminders. They can announce tests, information, holiday notices, parent-teacher meetings, or simply remain connected through words or thoughts of the day.
The easy search text option helps discover further details on previously sent messages. Also, the record message feature helps ensure the authenticity of the sent information and edit or remove the post based on the requirement.
Fee Management
The fee collection section has been beautifully designed to give an overview followed by class-wise information on the total amount, paid, and due fees, along with the overall applicable discount in the school.
School admins can explore class-wise reports and add any new transaction based on the mode of payment, search or filter the information, and select among the total annual fee and fees applicable to date. Moreover, they can send reminders for timely payment and save the imposed fine. Besides, hover over the transaction and check/DD management section and gain insight into the latest and previous information. Additionally, users can upload backdated payments and check out the videos for assistance if they are too shy to bother others for help.
Teachmint uniquely provides three gateways to accept the fees from parents with charges of transactions displayed on the screen. Easebuzz, Razorpay, and Cashfree payments allow instantaneous transactions of money.
Fee Configuration and Customization
The fee configuration feature gives the administrators control display, creation, and deletion of discounts and fines and customizes different settings. Here you can expect multiple options to visualize the information.
Admins can create the structure for new expenses or manage old expenses by simply choosing the information. Similarly, they can view standard and add-on discounts applicable and create discounts by choosing specific elements or overall categories for discounts.
To further ease fee collection and management, Teachmint offers several options that help configure the fee receipt, online payment, and demand letter settings. Moreover, admins can customize the transport fee and fee collection settings to enhance the user-friendly experience.
View, delete, and create a fine with additional details that will be further reflected on the students' and parents' portal for information.

Overview of Crucial Reports
Fee, attendance, and class reports are the most crucial for the functioning of the school. An analysis to visualize the organization's progress and devise strategies to overcome currently faced issues is a must. Thus besides a management section, fee details are displayed in this overview section separately for interpretation, along with attendance and class reports.
Fee Report Analysis
Administrators can enjoy the following perks:
Review and download the total & installment-wise fee amount, department, class, and student-wise, and overall details.
The reports can also be categorized based on payment collection, cheque/DD status, and all transactions.
Visualize any of these reports and add other categories as filters to flexibly gain information on school finances at a glance.
Attendance Analysis
On the attendance analysis overview, school administrators can:
View the current attendance percentage of the day.
Gain detailed information on any date of any person by searching the name and sorting the data according to student name, class, roll and enrollment number, and attendance.
Visualize the information for any date and add filters to easily find what is required.
Download the report in Excel format to easily visualize the same information on your system or share it on the go.
Apply the filter, sort through columns, including present days, and download the report.
Attendance insights on the main attendance report exhibit the attendance percentage for sessions and months. A detailed report provides the list of students with attendance status where the session or period can be modified.
Classroom Performance Analysis
Classroom performance reports put at ease any authority or administrator by
Providing an overview of the class and student performance.
Search for the students or sort them.
Gain insight into the total number of conducted and submitted tests with an average score.
Simultaneously, glance over the defaulters in this category.
Have a similar insight into the homework section displayed on the same page at different duration sets.
Transport Management
This section enables live tracking features for student transport. Instant information on stops, routes, number of teachers, and vehicle numbers will be shared with parents, ensuring safety on the go. Click on any of these and gain detailed insight for further understanding. Following this, a chart shows transport user information specifying the details as indicated by name. Administrators have the option to add any detail as per the requirement.
Benefits, Features, and Uses of Transport Management System
Inventory Management
A similar format is followed by inventory management with control in the hands of administrators. The options are inventory overview, purchase order, item category, and rooms. The overview provides details on available items and is further divided into category and item overview. Purchase order and item category provide all the details, and the room shows the number of units of any item, with a further option to add details.
Library Management
Library management indicates all the books with the facility to switch between assigned and available books. Immediately update the status with a simple click and add the book with all the relevant information, including ISBN. Librarians and authorities are free to search for book names as well.
Hostel Management
The hostel management module is similar to the previous one. Here you can simply visualize the data on the hostel, hostel type, and warden. Search and add the hostel or room and simultaneously assign these to students.
Digital Content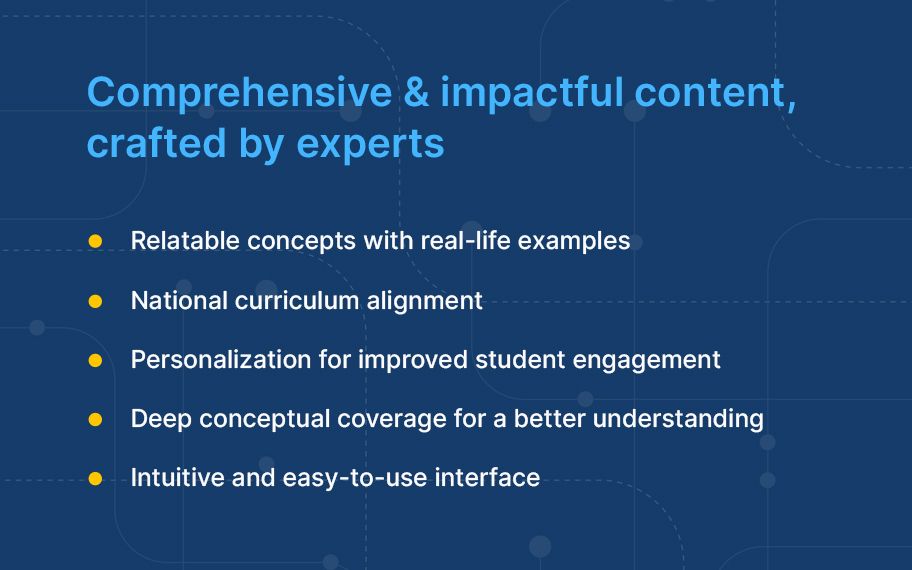 Digital content has been provided by Teachmint to cater to multiple issues of students. Firstly, students do not always have access to classes, especially in the offline mode of education. These students are dependent on notes created during the lecture. It isn't a feasible option as it results in a lack of attention and missing out on important things due to simultaneously focusing on writing and listening.
Secondly, recorded lectures are longer and require more time to reach the particular topic of interest. Moreover, the short duration encourages engagement and motivates the students to check out the videos as they know it won't be time-consuming. Teachmint's Digital Content has been designed keeping the issues in mind, and hence it acts as a solution to various problems and provides additional benefits as mentioned:
These short videos of a maximum of two minutes are provided in both Hindi and English.
The animation replicates real-time actions of concepts, for instance, DNA replication, mRNA transcription, and protein translation, which helps students to visualize such complex concepts and revise their learnings.
The videos are provided for every class level, which will soon accompany the study material.
More than 520 hours of educational content is available.
Our digital content currently covers Andhra Pradesh Board, Telangana Board, and CBSE.
Teachmint will soon launch content for more boards like Tamil Nadu, Maharashtra, Punjab, Rajasthan, and Gujarat by the end of February.
Other upcoming Boards include Kerala, Bihar, Uttar Pradesh, Madhya Pradesh, Karnataka, Haryana, and ICSE 1st to 10th.
Furthermore, we will cover competitive exams such as NDA, JEE Main, Advanced, CA foundation, RRB, UP assistant teacher, NTSE, NEET, CTET, and UPTET Paper 1.
Which Features Are a Must in School Management Systems?
Digitalization and increased work culture have introduced the working environment in every household. Whether managing the house or simultaneously handling the work, parents compromise on taking updates on their child's performance. They either rely on the child's statements or their performance. The drawback here is the inability to understand the problem behind the performance. It does not give a true picture of the issue, thus not solving it. Concerning the issues of communication, lack of attention, time wastage due to redundant activities, and unavailability of immediate assistance and study material, these features will directly address the problems.
A go-to tool for all the stakeholders of the school that, includes students, teachers, administrators, and other staff members
Provision of digital content for studying
Saving time by easily creating the tests and homework and notifying the students
Maintaining communication among every member and parents
Anytime access to the school schedule, events, holidays
Provision of live and recorded classes with whiteboards and polls for interaction and clarity of concepts
Managing the resources, including manpower and inventories, and controlling the accessibility of employees
An overview of fees and set-up reminders
Generating cards, certificates, and even a website for the school
Visualizing reports and summaries and downloading them
Help videos for anytime guidance on the operation
To Sum Up
Teachmint is a unique Integrated School Platform that brings together a combination of three features. Presenting a learning management system, administrator tools, and digital content, this School Management System is a complete package to automate school operations. With Teachmint, administrators can now focus on creating new services and facilities, and teachers can completely focus on innovating the study material and pattern. Students need not worry about forgetting the assignments and tests. They can clarify their doubts anytime, and parents need not worry about missing important events or notices and fee payments.
Click here to know more about School Management System
Learn more about Teachmint plans here.