"Teachers have three loves: love of learning, love of learners, and the love of bringing the first two together."
The Teachmint 'Teachers Day Mahadhamaka Contest' that began on 24th August 2021 was a huge success and a joyful experience for all of us, especially with numerous entries and an enthusiastic participation from the contestants. 'Teachers Day Mahadhamaka Contest' gave an opportunity to the teachers out there to win a cash prize worth ₹ 5000 by just following some simple steps(Read everything about the Teachers Day Mahadhamaka Contest here). With such an overwhelming response, deciding the winners was not an easy task for us. We have selected the winners purely based on the terms & conditions that were mentioned. Only the contestants who adhered to the rules and regulations of the contest were considered as the 'qualified contestants'.
Without any further ado, let us introduce you to the winners of Teachmint's 'Teachers Day Mahadhamaka Contest' -
'Teachers Day Mahadhamaka Contest' Winners-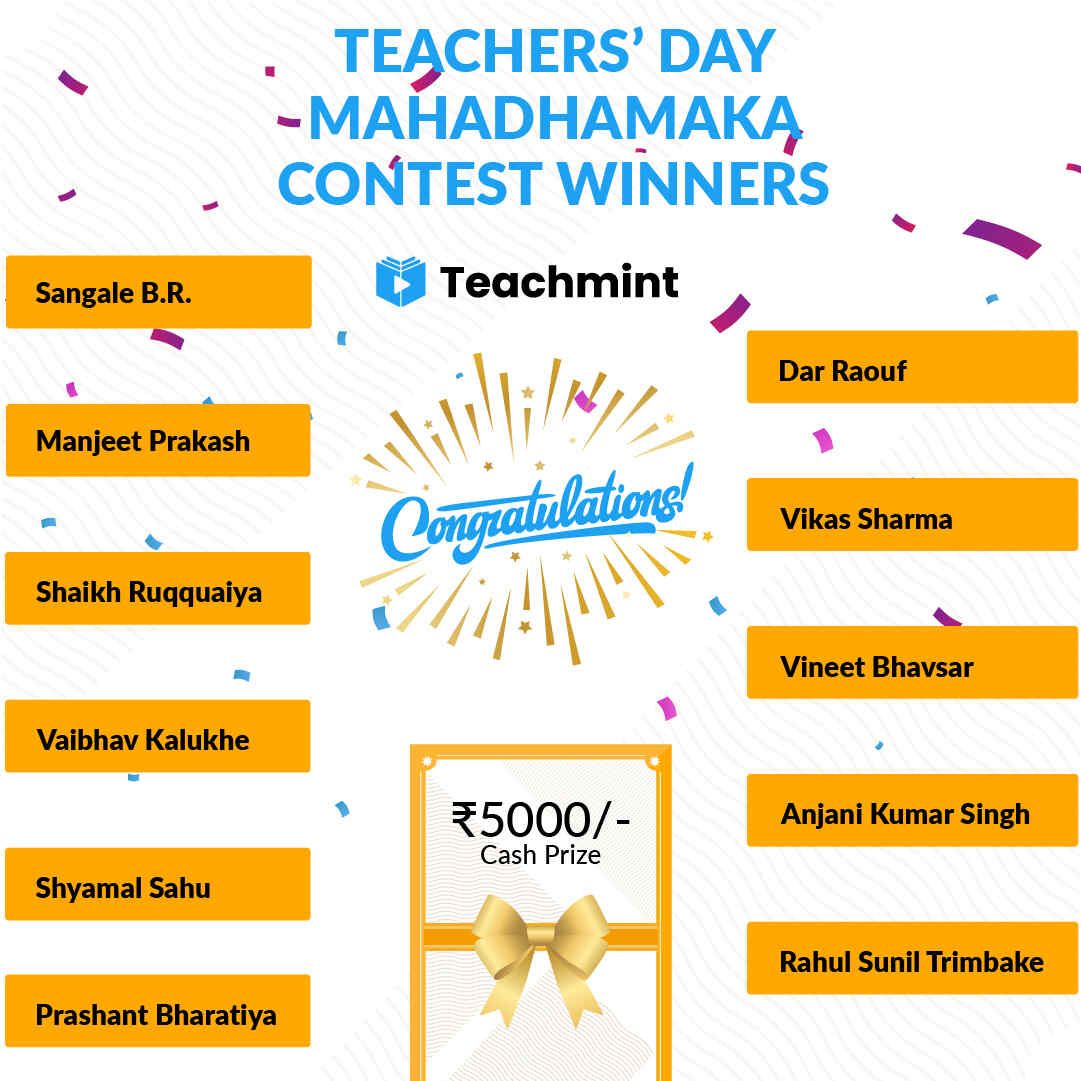 Manjeet Prakash
Shaikh Ruqquaiya
Vaibhav Kalukhe
Shyamal Sahu
Prashant Bharatiya
Dar Raouf
Vikas Sharma
Vineet Bhavsar
Anjani Kumar Singh
Rahul Sunil Trimbake
Sangale B.R.
Many many congratulations to all the winners, the winners will get a cash prize of ₹ 5000 as promised, the team will be contacting all the winners in the coming days. We appreciate and extend our gratitude to all the participants for all the efforts and love they put into making this contest so huge. We will be back with more such exciting contests and opportunities for all of you, till then stay tuned and happy teaching!