Teaching is one of the most respected jobs across the globe. It takes passion, dedication and commitment to be a great teacher. Online teaching is a relatively new area for a lot of teachers. The sudden shift to online methods of teaching, left a lot of teachers scared and clueless. However, with the right online teaching app, online classes are simple and effective. Teachmint Aasan Hai Contest was an attempt to understand whether our teachers found the app simple and efficient. The love that we got from our users was overwhelming, to say the least.
It goes without saying that each participant is a winner and have definitely won our hearts and love. Here are the winners of the contest based on the rules and terms that we had mentioned before. (Read the terms and conditions here.)
Teachmint Aasan Hai Winners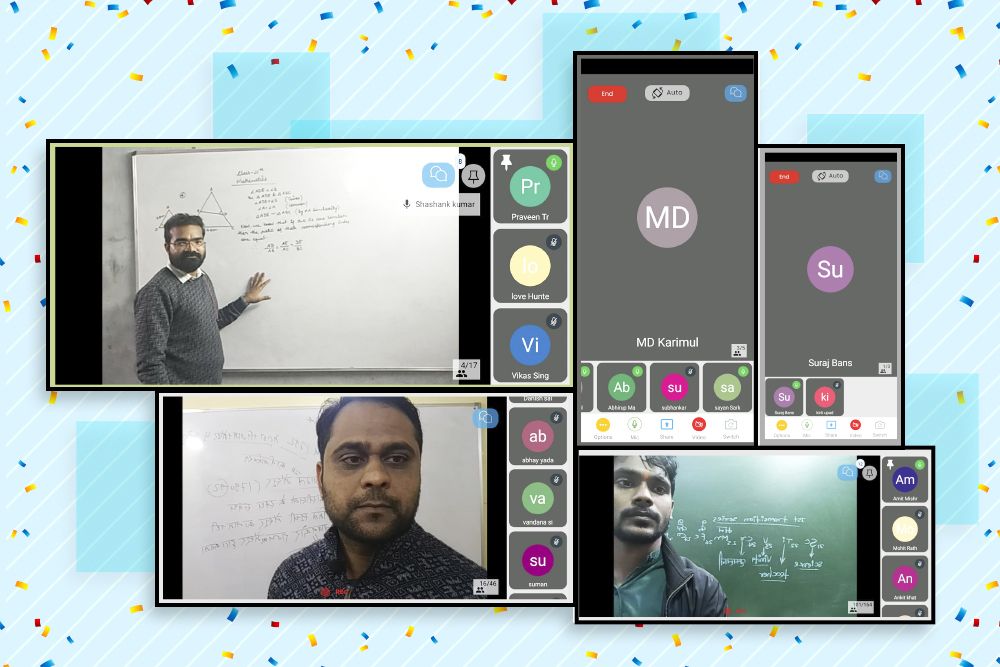 1. Amit Mishra, Apical Classes
A strong contestant since day one, Amit Mishra from Apical Classes is the winner of the Teachmint Aasan Hai contest and will be getting a brand new Samsung Galaxy M02S. Congratulations!!
2. Suraj Bansode, SB Education Institute
Another enthusiastic contestant, Suraj Bansode has come in the second position. His enthusiasm & passion is unparalleled and all his efforts have paid off. He will be getting a Wacom Pen Tab. Congratulations Sir.
3.Prince Chauhan
Definitely a winner in the making, Mr. Prince Chauhan was a compelling candidate for the contest. With the amount of support, he received from his group of family and friends, it wasn't too surprising to see his name high up on the leaderboards!
4.Praveen Tripathi
Mr. Praveen Tripathi's dedication to achieving success is a quality we should all strive for. Even after getting his post accidentally deleted, he rose up the ranks with ease and secured his position on the top of the leaderboard.
5.MD Karimulla Haque
"Slow and Steady Wins the Race" is true to the T when it comes to, Mr. Karimulla. The way he made his way toward the top of the ranking board was not only a class apart but also the kind of zeal we were looking for in the contest!
The contestants who came in the third, fourth and fifth position will be getting a tripod to make the classes even more Aasan!
Congratulations to all the winners and participants.
Here are some contestants that caught our eyes and deserves a mention for their interesting captions:
1. Deepak Pandey
Here is what Deepak Pandey Sir had to say about Teachmint. Glad and excited to know that our users are so creative.

2. Krishna Mohan
Here is what Krishna Mohan Sir captioned. Teachmint is lucky to have users like this.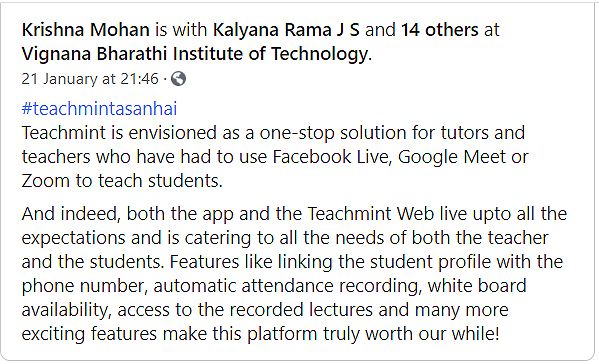 A heartfelt gratitude to all the participants. Stay tuned to our page and social media handles for more exciting content and amazing contests.